We all have those moments. You know — those stressful moments that make us want to shut out the world around us. Here are a few of the everyday annoying stressors in my life:
A dog with an ear infection which requires me to give her ointment twice a day, which makes her look like she's sporting a doggie jeri curl (as my husband has observed). I also have to cram 3/4 of a pill down her twice a day. Yes 3/4 of a pill, which is harder to regulate than you might think. This ailment has required 3 vet visits in the last month and of course boocoos of bucks paid out to cure her.
Children. Need I say more? But I'll say that between an emotional five-year-old and a hormonal eleven-year-old, I don't know when the last time a day went by where someone didn't cry.
Daylight savings time has turned my lovely Connecticut home into a cave. By 4:30 pm, we are well on our way to night. I love living in Connecticut, but I really hate this time of year. When it's pitch dark before 5:30 p.m. I honestly just want to crawl into bed and call it a day.
Laundry and dishes. They're never ever done. They're just a depressing fact of life.
So what's a girl to do?
Picture this: a frenzied woman closing her eyes to shut out the world around her as she makes little index finger-to-thumb circles and says "ohm." It's a stereotypical satire of yoga and meditation that is often seen in the media.
I totally get the need to shut out the world. For me when I have that instinct, in addition to turning to prayer for real relief, I use reading as a way to retreat and shut out the world. Television seems to be a good escape, but for me it doesn't occupy my mind fully enough to really block out all those stressful events.
But books — books do it. When I've got my nose buried in my book, my kids know that I'm not listening. If I'm on the phone or the computer or watching TV, they don't seem to notice that I'm occupied. When I allow myself to turn away from everything else and delve into a book, it really does calm me down and help me escape, especially if I lock myself in the bathroom and submerge in a bubble bath when the going really gets rough.
I was invited to blog about why I need to relax and say ohm by Stonyfield Yogurt to enter to win a trip to a yoga retreat. I'm sure that although I would have plenty of time to read there, I doubt I'd need to turn to that stress reliever.
Find out more about Stonyfield's new Greek Yogurt, Oikos by becoming a fan on Facebook: http://www.facebook.com/oikos. I've posted my favorite way to enjoy Greek yogurt over at Snapshot.
I also have the privilege of treating one of you (U.S. residents only) to a relaxing spa package of your own.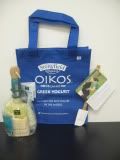 4 free containers of Oikos organic Greek yogurt
the "Take- 5" Anti-Stress spa kit from Earth Therapeutics, which includes
a loofah massage sponge
Anti-Stress massage soap
spa body brush
Anti-Stress massage lotion
a soothing gel eye mask

Leave a comment and tell me why you need a relaxing "ohm" moment. One of you will win the package as pictured above. I'll announce the winner on Wednesday, November 25.
Subscribe to our feed. Follow us @5M4B on Twitter. Enter our other giveaways.
In spite of this tongue-in-cheek perspective of her busy life, Jennifer Donovan loves managing her children, her dog, and this site. She also blogs at Snapshot.