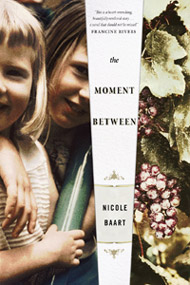 The Moment Between is not an easy read. It's fraught with emotion and desperation. Full of unlikeable characters, yet surprisingly a book I couldn't put down.
Abigail Bennett is a driven young woman who suddenly leaves behind her high-powered career to track down the object of her obessession, Tyler Kamp. As she locates Tyler and forces herself into her life, the story flashes back to different points in Abigail's life…including her tormented past with her family and her sister, Hailey.
The Moment Between is a compelling read that will stay with you long after you've finished the last chapter.
We don't have a regular Wednesday giveaway because of our Gift Guide and Giveaway event which started today, but we do have some winners to announce.

The winner of the Oikos Yogurt/Spa Package is #14 Jen Unsell.

The winner of My Prison, My Home is #26 Shari D.
Melissa has been captivated by books for as long as she can remember. She resides in Virginia and blogs at Breath of Life.