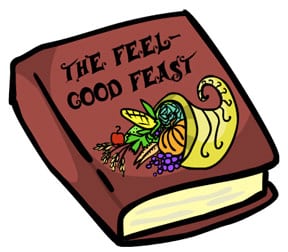 Speaking on behalf of the team, I wish you all a happy Thanksgiving.
It is truly our delight and pleasure to expand our love of reading into an avocation here at 5 Minutes for Books.
I can almost guarantee that I won't be reading anything today (other than recipes), but I hope that everyone makes plenty of time to read throughout the holiday season.
**Image source: Via Bing.com's image search, I found this appropriate book featuring a cornucopia, which brought to my mind feeling good about feasting on books, but it's really from a site called The Garden Diet. So, I may have hoisted it, but if anyone wants me to remove it I will, and if you are interested in a raw diet, check them out.