Okay, I admit that the title of this post is a bit of a generalization, and one that caused me to cringe even as I typed it in. As a very much UN-girly-girl, I have been shockingly blessed with a daughter who chooses to dress herself in head to toe pink (ignoring the traditional advice for redheads), and who regularly proclaims as she sits down to breakfast to have dreamed the previous night about such topics as dolphins, ballerinas, unicorns and princesses. Apparently, if the generalization fits, my daughter will embody it. So, with that in mind, I am happy to share with you two books that are completely perfect for my own 3-year-old girly girl, in the event that you may know a kindred spirit of hers who could find joy in them, too.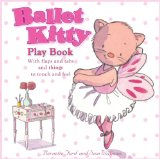 A kitty who dons a tutu and dances ballet? Check, check and check on the girly-girl list. Ballet Kitty: Play Book by Bernette Ford, features pull-tabs, flaps and textured materials throughout its pages, providing young readers with an interactive experience as they read. With a soft palette of colors, dominated by shades of pink, this book has immediate visual appeal to lovers of pink! This simple story is perfect for a young reader to return to on her own, practicing those developing early reading skills. Would your little one like to help Ballet Kitty get dressed for dance class in this adorable book? My daughter answers with an emphatic YES!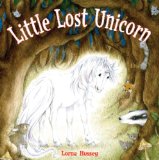 With Lorna Hussey's Little Lost Unicorn, little unicorn lovers will be delighted with the embossed illustrations that appear to glow and glitter from the pages. As Little Unicorn excitedly explores the forests around his home, he soon becomes lost and must seek the help of his new forest friends, even having his bravery tested when trouble comes. There is a sense of old-fashioned storytelling in this book, with flowery language and an emphasis on friendship, love and responsibility. Another wholehearted endorsement from my resident girly-girl reader.

As part of our Gift Guide Giveaway, we are happy to offer a copy of Ballet Kitty: Play Book and Little Lost Unicorn for one of our readers! Please leave a comment here to be entered (U.S. and Canada residents only, please). One entry per person.
Entries will be closed on December 8, and we will announce the winners on December 9. Please watch your email and check the site for your name, so that we can collect your shipping information and you can get your gift by Christmas.
This giveaway is now closed. Thanks!
Be sure you've entered all the giveaways in our 2009 Gift Guide and Giveaway event.
Dawn is often schooled by her daughter in the ways of the girly-girl, and she documents her parenting world of 1/3 girl, 2/3 ALL-boy on her blog, my thoughts exactly.