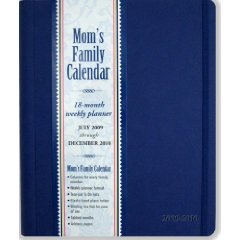 I've been using this calendar
(formerly called "Mom's Family Calendar" but it is being renamed to "Mom's Weekly Planner") from Peter Pauper Press since July and I absolutely love it. For starters, each month is indexed which makes it easier for you to flip to the appropriate month. (As for me, I typically leave it spread out to the month of choice.) The main page spread for the month is just simple blank boxes which I love because it allows me to see everything at a glance. Then, if you like to get a bit more detailed, behind the visual calendared month, are pages for scheduling. To explain, on a two page spread there are seven days listed (so that you can plan your weeks at a time). Each day is broken down into three sections: "morning, afternoon, evening." While I do like the full month staring me in the face, sometimes it's hard to write down hourly plans inside the little box. This distinction for morning, noon and night allows me to write out plans and block out portions of the day for various activities. It's very convenient. In the back there are pages for you to write down the names and addresses of Very Important People (haha) as well as a section for you to create and use a To Do list if that's your thing.
Another marvelous aspect of this calendar book is that it covers a year and a half. (The current calendar goes from July 2009 to December 2010. Naturally it also gives you a preview of 2011 if you are curious as to what day your birthday falls on in the next calendar year! Ok, so now you know what *I* always check . . .) I love that it covers more than a year's worth of time because as a wedding photographer I typically plan my life out quite far in advance. Being able to look several months ahead, and frequently into the next year, is a huge benefit to me. Love this calendar very much.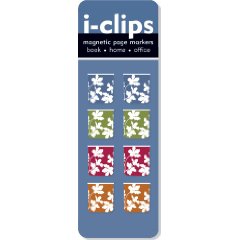 Peter Pauper Press's i-Clips
will save me numerous pieces of shredded paper. When I'm reading a book, I usually keep a sticky note pad next to me. As I read along, I shred the sticky note to pieces and place it on paragraphs of note that I want to remember and write down/type up into a review. When I'm finished reading a book, I'm usually looking at pieces of paper sticking out from all angles and then, of course, I just throw the papers away after I'm done. (It is a horribly wasteful habit, I do admit it!) Enter: the i-Clips
. These fantastic magnetic tabs allow me to mark the pages I wish to re-references and then I can easily reuse them on the next book I read. Furthermore, they are just plain cute! They have a variety of designs to choose from so you can find a clip that suits your personality or the personality of those you are gifting them with! Love these things too!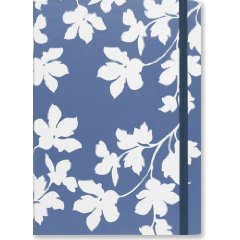 Lastly, Peter Pauper Press have a wonderful variety of journals. I'm particularly fond of the look of their Floral Silhouette Journal
just because it's so pretty. It has 160 lined acid-free pages. An elastic band holds your page in place which I also like. Additionally there is a pocket inside the back cover allowing you to keep a few important papers of your choosing. This is just one journal of many that they have to offer and the one that caught my eye. Check out their line of journals to find something unique that suits you best!
You can also pre-order the next year's Mom's Weekly Planner
if you'd like. I now know it's a calendar I don't want to live without! It suits our lifestyle well.

Would you like to win one Mom's Weekly Planner, a set of i-Clips and a journal? Peter Pauper Press is graciously and generously offering one of each to one of our readers here for our Gift Guide and Giveaway. If you would like to win, simply leave one comment (and only one) below. U.S. Residents only.
THIS GIVEAWAY IS NOW CLOSED
Even if you do not win, consider Peter Pauper Press for some of your Christmas gift giving (or receiving?!) ideas this year. They are a wonderful company with quality materials and a good variety of styles at that! Check 'em out!
Entries will be closed on December 8, and we will announce the winners on December 9. Please watch your email and check the site for your name, so that we can collect your shipping information and you can get your gift by Christmas.
Be sure you've entered all the giveaways in our 2009 Gift Guide and Giveaway event.
Carrie comes by her book obsession honestly, having descended from a long line of bibliophiles. She blogs about books regularly at Reading to Know and Reading My Library.