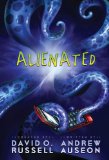 I think it's safe to say that when children reach the older elementary school years, there begins to be a slight level of gender differences in what reading materials are most attractive. While I'm not saying that there aren't girls out there who could get swept up in the adventure and out-of-this-world absurdity of this book, Alienated by David O. Russell and Andrew Auseon definitely has preadolescent boy written all over it.
At the center of the story are two eighth grade best friends who are as low as anyone can possibly be on the middle school social totem pole, and to make matters worse, they produce a weekly newsletter highlighting the presence of aliens living in their area. Of course, no one believes the tall tales of Crumble Bun and her ability to turn anything she touches into a pile of crumbs, or of Arachnid Boy whose super-sticky feet allow him to walk on walls (and whose story is told incorrectly in the comics). Yet, meeting up with these 'ails' is exactly what Gene and Vince do in their spare time, writing up their stories to prove to the world that aliens truly do exist.
When teenage self-serving wishes take over any sense Gene may have previously had, he sets off a chain of events heard all over the universe (or whatever term would best fit to explain worlds beyond our knowledge) and brings to a head a family feud that spans across other-worldly measures of time. As more secrets are unveiled, perspectives become flipped around and priorities get reevaluated, and our middle school outcasts are suddenly bearing more burdens than ever. Will they save the planet from destruction? Will they protect their alien friends from capture? Will they ever get girlfriends?
If you happen to know any older elementary school readers who'd enjoy a fast-paced adventurous novel, especially one filled with wacky humor and a slightly higher than usual gross factor, look no further than Alienated for a literary stocking stuffer.

As part of our Gift Guide Giveaway, the publisher is generously offering 5 copies of Alienated! (U.S & Canada only, please).
Leave a comment here to enter.
Entries will be closed on December 8, and we will announce the winners on December 9. Please watch your email and check the site for your name, so that we can collect your shipping information and you can get your gift by Christmas.
This giveaway is now closed. Thanks!
Be sure you've entered all the giveaways in our 2009 Gift Guide and Giveaway event.
Dawn's own alien nine year old son loves to read just as much as his mom. She wears her mama pride all over her blog, my thoughts exactly.