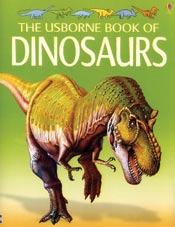 Strange and mysterious creatures with TEETH! My little boy is in love!
The Usborne Book of Dinosaurs (provided through Usborne Books & More) is a great beginner's picture encyclopedia of sorts for the young paleontologist wanna-be.
The book does present an evolutionary view of the world which I don't happen to agree with, but this did not prevent us from loving to look at or learn about dinosaurs. The Usborne Book of Dinosaurs starts "Before the Dinosaurs" and proceeds through to "After the Dinosaurs." Along the way, the various page spreads offer full-color illustrations of different types and varieties of these mighty and mysterious creatures. The book points out various features and physical attributes that individual dinosaurs have. There is a helpful pronunciation guide for mothers trying to name all of these animals to their young children. There is talk of teeth, eating habits, size and each dinosaur is helpfully compared to others to help paint a more complete picture for the young dinosaur-lover in your life.
We particularly enjoyed learning about dinosaur armor and appreciated examining the spikes and horns. There is also a page spread about baby dinosaurs and, of course, talk of fossils making this book a good introduction to the world of these fabulous beasts.
This is a short (and very affordable) 32 page book but with enough information packed away inside of it to satisfy initial curiosity and to give kids something to think about and imagine with. Another two thumbs up to Usborne Books & More for the offering!
Carrie comes by her book obsession honestly, having descended from a long line of bibliophiles. She blogs about books regularly at Reading to Know and Reading My Library.