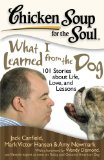 When I was twelve, my family moved to a new house and soon our family expanded from simply four two-legged members to include two additional four-legged pals. Our puppy Whisky (don't ask) and our kitten Sunny grew up with each other, and they were both a part of our family for years and years. My own oldest son even had a couple years of knowing Whisky during every visit to my parents, as these animals were family. With a childhood filled with pet memories, I can relate to the latest offerings from the folks at Chicken Soup for the Soul– What I Learned from the Dog and What I Learned from the Cat.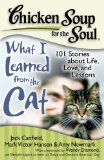 If you're familiar with previous Chicken Soup for the Soul titles, you'll recognize the tone of the essays- personal stories with universal themes meant to inspire and share lessons learned. If you're an animal lover, these particular books will resonate with you as you read about strays who entered individuals' lives at just the right moment and relationships that were formed between owners and pets that lasted a lifetime. While my current family doesn't include any members with fur, we do hope to someday add a buddy who will be fond of wagging his or her tail. I'm quite positive we'll benefit greatly from the addition.
If you're interested in reading the latest Chicken Soup for the Soul offerings, please leave a comment here to win a copy of What I Learned from the Dog AND What I Learned from the Cat. Three commenters will be randomly drawn and the winners will be announced in next Wednesday's giveaway post.
The winners of the Snuggle Me Story Books are #94 JoAnn Legano and #30 Michele Anne.

The winner of Make-Ahead Meals for Busy Moms is #18 Just Mom.
Dawn wonders how long she can keep her kids' pleadings for a dog at bay. I guess someday her blog, my thoughts exactly, will include dog stories in addition to ones about cute kids.