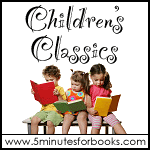 We're sort of doubling up here. Yes, in this post I'm going to invite you to link up your own reviews of a childhood favorite that you've recently re-read, but I'm also going to post a review of a delightful book that you might want to check out for yourself after cruising down memory lane in the pages of a book from your youth or childhood.
Shelf Discovery: The Teen Classics We Never Stopped Reading was such a perfect tie-in that I just had to feature it here today. This delightful collection of essays by Lizzie Skurnick takes a look at the impact that all the old favorites had on her. There are also guest essays by Meg Cabot, Laura Lippman and Jennifer Weiner.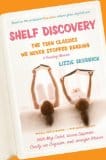 The delightful books that are featured within this volume are probably many of the ones that people will cover today. I know that the book I read, From the Mixed-Up Files of Mrs. Basil E. Frankweiler is included, in the very first chapter featuring great YA heroines. You'll also find Sally J. Freedman, Meg Murray, Harriet (the Spy), and the Great Brain in this section.
The second chapter groups coming of age novels such as Are You There God, It's Me Margaret? (of course!), Blubber, The Cat Ate My Gymsuit, A Ring of Endless Light and more.
Other chapters take a look at romance, supernatural powers, old-fashioned girls (including THE Old-Fashioned Girl by Louisa May Alcott, which perhaps someone will choose to read for our November bookclub featuring Louisa May Alcott) and so much more.
Each essay features a cover shot of those books we loved, which alone is enough to transport many of us to that time and place. The author also quotes liberally from the book that is in the spotlight, which may serve as a key to unlock those books that you had forgotten you remembered.
This booklist WAS my life. If like me you grew up in the 70's and 80's, this booklist probably helped define you as well.
Join in our other Tuesday community carnivals:

Our future Children's Classics schedule:

November 10 — Celebrate the holidays (any Fall or Winter holiday)
December 8 — Children's books you love to give (Share your best gift ideas)
Check out our current giveaways. Subscribe to our feed. Follow us @5M4B on Twitter.
And now — Add the link to your review of the childhood favorite that you revisited recently. Or if you don't have a blog, feel free to leave your thoughts in the comment section.