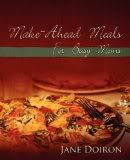 When my children were toddlers, I often prepared parts of our dinner meal while we were eating lunch. This made getting the final product on the table that much easier during the early evening hours. When I received a copy of Jane Doiron's Make Ahead Meals for Busy Moms
, I was reminded of my former habits, and I realized that I could use this great resource to help me calm the late afternoon storm once again.
Make Ahead Meals for Busy Moms
is a typical cookbook in that is has sections for appetizers, breakfast foods, desserts, main dishes, side dishes, etc… What sets this cookbook apart, however, are the wonderful tips and instructions for preparing meals ahead of time. There are recipes perfect for freezing, pre-assembling, and quick reheating, making those minutes before a meal much easier to handle.
Each recipe has its own page, and the type is large and easy to read. I really liked both of these features. The dessert section made me drool, and the main dishes are very family friendly, a particularly important feature for a mom of little ones. My only complaint is that there are no pictures to go with the recipes; I really like to see what I am making before I get started. Despite the absence of pictures, this cookbook is a wonderful resource, and it will get lots of use in my kitchen. Although I know I will not always plan ahead like I should, using this cookbook a few times a week will save me some of that meal-time stress.
I am excited to say that we have a copy to give away to one of our readers. If you are interested in simplifying your meal preparation, please leave a comment on this post. We'll announce the winner in next week's giveaway post.
Congratulations to Michelle, commenter #4. You are the winner of a copy of The Believer.
Subscribe to our feed. Follow us @5M4B on Twitter. Enter our other giveaways.
Lauren is a wife, a mother of two, and an avid reader who would like to have her meal-time act together. She blogs at Baseballs and Bows.