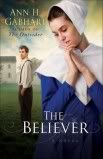 I have read many books about the Amish people, and I usually enjoy them. Until recently, I had never read about the Shakers. I had heard of Shaker-style furniture, and I knew they were people who preferred a simple lifestyle, but that was the extent of my knowledge.
Ann H. Gabhart lives thirty miles from a restored Shaker village in Kentucky. In her new novel, The Believer
, Mrs. Gabhart uses a backdrop similar to the community she knows well to create a wonderful story that grabbed my interest from the first pages.
Elizabeth Duncan is a young woman with great responsibilities. After the sudden death of her father, Elizabeth fears she must marry a man she despises simply to meet the needs of her younger brother and sister. As she looks through her father's things, she is reminded of a nearby Shaker village. Elizabeth knows that Shakers care for orphans, so she takes her siblings and heads off in search of protection and provision.
The Shaker lifestyle is difficult for the Duncans, but they are determined to make it through the winter. Difficulties arise, however, when a young Shaker man named Ethan notices Elizabeth. The Shaker faith forbids marriage, so Ethan and Elizabeth must stay away from each other to avoid problems among the brethren. As the months go by, Elizabeth is faced with the troubling decision of following her heart or sacrificing her own desires to save others.
As I have said before, historical fiction is one of my favorite genres. If you like historical fiction as well, I highly recommend this book. The Shaker religion is no longer an active one (I guess any religious group that doesn't marry and have babies will have a difficult time carrying on through the generations), but reading about the Shaker lifestyle is fascinating, and I hope to read more about it in the future.
Be sure to pick up a copy of Ann Gabhart's The Believer
. You will enjoy a great story and learn something in the process. I love that aspect of books!
We have one copy to give away to one of you (U.S. residents only). Please leave a comment if you'd like to win. We will post the winner in the giveaway review post on 10/7.
The winners of The White Queen are #38 – edj and #48 – Shannon.

The two random winners of The Listeners are
#33 ky2here and #73 Tammy.

The three school/library employee winners are
#23 Angel B, #20 Carolyn and #18 Kim.

The winners of Boy-sterous Living are #59 Susan Smith and #51 Stephanie J.
Subscribe to our feed. Follow us @5M4B on Twitter. Enter our other giveaways.
Lauren is a wife, a mother of two, and an avid reader. She blogs at Baseballs and Bows.