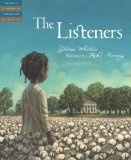 On this day in 1862, the Emancipation Proclamation was first issued, paving the way for the eventual abolition of slavery in America. Topics like slavery may be difficult for some of us to discuss with our own children today, wondering how to convey such a despicable chapter of our country's history. Gloria Whelan's new book, The Listeners provides an amazing opening for this very conversation.
This picture book for older children left me breathless upon my first read-through. I've read it several times since, trying to fully take in the breadth of emotions conveyed through the words and illustrations. Told in the voice of an enslaved child who is old enough to work in the cotton fields with the adults, there is a straightforwardness to the telling of the story, describing the special role that some children played as 'listeners.' Small enough to eavesdrop under windowsills unnoticed, the children report what they've heard back to their families in the slaves' quarters– things that are immeasurably important to their lives. When they overhear the master raging about the election of Abraham Lincoln and his call to end slavery, the children get to be the ones to make the announcement to their mammies and daddies, sharing in the hopeful elation of a new day ahead. The last page of the book, depicting a long road to walk, emanates beauty and hope for the future.
Children are given a beginning understanding of what was expected from the slaves, with an emphasis on the work and meager living conditions, but the spirit of the community rises above, depicting the tenacity people could exhibit when facing an enslaved life. The characters wear their emotions in their expressions with Mike Benny's realistic and hauntingly beautiful illustrations, truly showing how a story can be more deeply told when the pictures match perfectly. Gloria Whelan and Mike Benny give a voice to the slave experience, and it's the wondrous, beautiful and awe-inspiring one of a child in The Listeners.
As a special giveaway, we have 5 copies of The Listeners for our readers: two copies will be given to randomly chosen commenters, and three will be reserved for commenters who are school or public library employees (teachers, administrators, reading specialists, librarians, etc).
Please indicate in your comment if you work professionally in any of these capacities to be considered for that portion of the drawing! (US and Canada only, please). We will announce the winners on September 30.
Dawn lives for reading and her family, two frequent topics of discussion on her blog, my thoughts exactly.
Subscribe to our feed. Follow us @5M4B on Twitter. Enter our other giveaways.