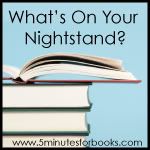 It's that time again — the fourth Tuesday of the month brings our most-popular community event: What's on Your Nightstand?
Are you new to Nightstand? Do you want to know what it's all about? You can find all the information you want to know at the What's on Your Nightstand page.
If you're new here — welcome! Also, to our regular participants, let me give you a heads-up that we have a bunch of current giveaways going on! We always have at least two current giveaways, but right now there are a whole handful!
But basically, just come here to 5 Minutes for Books on the fourth Tuesday of each month. You can either link up a post that you've written on your own blog about what is on your nightstand (what you plan to read in the upcoming month, what you've just finished reading — your choice!). Then visit around and watch your TBR list grow.
Non-bloggers are invited to participate by visiting the links and commenting on others' posts and can leave their goals in the comment field.
By the way, I know that the uber-popular Fall into Reading Challenge hosted by Callapidder Days starts today. Feel free to link up the post that you wrote for that challenge here, or you can make a separate post and refer to your more comprehensive quarterly list. We would, as always, appreciate a link to this post, or at least to our homepage, so that your readers know where to find other participants.
Check out our new policy:

To make things fair, we'll post it at midnight Eastern on odd numbered months and at 7:00am Eastern on even numbered months.
Now everyone gets a chance to be at the top of the Linky. You East-coasters can remember that your chance to sneak in earlier will come in October.

Join in our other Tuesday community events:
Check out our current giveaways. Subscribe to our feed. Follow us @5M4B on Twitter.