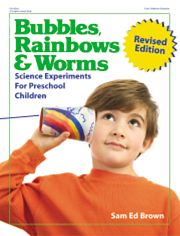 Bubbles, Rainbows and Worms
is a book of science experiments for preschool children. Published by Gryphon House books, this is a most excellent book for parents or teachers to use to help children explore the world around them. I don't know about you, but I'm one of those people who needs someone to come along and say, "Here's a good and creative idea for you to do with your little one. Try THIS." Then, of course, I always think to myself, "Oh yes, that makes sense. Good common sense." I just didn't have the idea first. Such is the case with this book. About half of the ideas in the book are "DUH" ideas to me (meaning, I could have thought of them myself if I concentrated) and the other half were, "Oh wow, that's a cool idea!" suggestions.
The book is divided up into different "experiences." There are activities for experiencing things with air, animals, the environment, plants, the five senses, water and a section of miscellaneous activities. As an introduction to the book there is an article on The Young Child and Science explaining the importance of experiences, or rather, experiments. The book also begins with the "10 Commandments for Teaching Science to Children" – the chief rule being "Be patient with Children." That can be hard when a mess in the kitchen is being threatened. But still, letting them make a mess is important. Also, allowing for open ended questions. (I bet you are getting excited already, right?) The thing I try to remember (and I actually DO remember!) is what it felt like to be a kid and want to try something new and cool. I loved experimenting and playing with things that threatened a mess. Now that I'm the parent, I understand the hesitations but if I engage with my kid on his level, he is blissfully happy and he DOES learn new things about the world (which he proceeds to share with everyone he meets for the next few days). This book really is perfect for us.
I'm not saying I'm going to go out hunting for bugs (I hate bugs.) but the idea of making crystals is cool. Making lightning seems easy enough and having a "seed party" is right up my alley. There are plenty of activity suggestions in this book that I am happy to do and happy to introduce to my son.
I've talked about Gryphon House books before and the thing I continue to appreciate about them is that, while they do address teachers primarily, they do a really good job of assuming parents are also educators of their children. As that IS the case, I appreciate their sensitivity towards helping parents help their children. Thanks, Gryphon House for that and for this lovely book!
Carrie comes by her book obsession honestly, having descended from a long line of bibliophiles. She blogs about books regularly at Reading to Know.