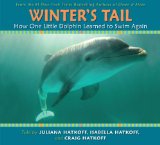 Stories of inspirational perseverance and strength seem to be a specialty of author Craig Hatkoff, who has collaborated with his daughters Juliana and Isabella to create several books featuring amazing-but-true tales of animals who have survived the unimaginable. Their latest offering, Winter's Tail: How One Little Dolphin Learned to Swim Again, continues these themes of hope and fortitude.
When a baby dolphin was discovered trapped in the ropes of a crab trap in Mosquito Lagoon in Florida, the story of Winter began. After being freed by the fisherman who found her, it became clear that the dolphin's injuries were serious, so he contacted fish and wildlife officials. The dolphin, dubbed Winter by the group of rescuers who worked for hours to catch and transport her on the cold December night, soon began her journey of recovery at the Clearwater Marine Aquarium– a journey that would unfortunately include the eventual loss of her tail as a result of the extreme injuries she sustained, but also the creation of a prosthetic tail to assist her in maintaining typical dolphin movements and development.
Hatkoff and his daughters tell Winter's story with a clear voice, explaining the challenges that confronted this amazingly determined dolphin and conveying an obvious compassion for her plight. With photos documenting her recovery process, adults and children alike cannot help but become invested in her recovery. Aimed toward the elementary school set, my own son and I have read the book several times, sharing our reactions of awe, joy and amazement, and we had the great fortune of seeing Craig Hatkoff speak at this year's National Book Festival in Washington, DC. Along with telling Winter's story with an enthusiasm that shows his commitment to sharing his love for this fantastic animal, he also showed one of her prosthetic tails. This incredible piece of technology created for a dophin has brought forth advancements that are benefiting the development of human prosthetics, as well.
As Winter celebrates her fourth birthday this month, her story of survival and determination will be shared in Winter's Tail: How One Little Dolphin Learned to Swim Again. For even more fun, be sure to visit Winter on the web to see photos, play games, and even access a live webcam at winterstail.com. In addition, Scholastic.com will be hosting a virtual field trip to Clearwater Marine Aquarium on Wednesday, October 7th at 1:00 pm (Eastern Time).
I recently had the great fortune of meeting with Craig Hatkoff at this year's National Book Festival in Washington, DC. You can read about my experience in my On Reading post- Meeting the Minds Behind the Books, as well as a write-up of the interview on my blog.
Dawn loves sharing a good inspirational story with her kids, since we often need all the inspiration we can get. All their blog-worthy stories are told at my thoughts exactly.