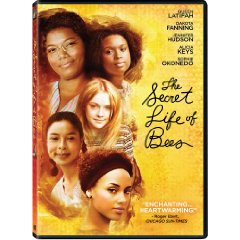 I read Sue Monk Kidd's book The Secret Life of Bees a few summers ago. It had been all the rage — a couple of years before I actually read it. I'm not one to jump on the book bandwagon. I finally had to read it after I started blogging, because it's one of those books that all the book-loving, reading, writing bloggers just loved. I thought the book was okay, but it certainly wasn't one of my all-time favorites (I wonder if I've grown into that style of writing, though, because of my recent experience with Marilynne Robinson's Home — see review).
In spite of the fact that the book wasn't one of my favorites, I did like the story, and when I saw that a movie version was out starring Queen Latifah (whose body of work as an actress I enjoy), I was definitely interested.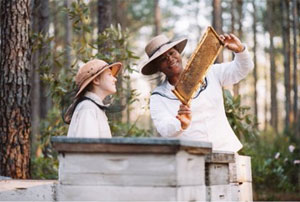 After reading Sue Monk Kidd's memoir Traveling with Pomegranates (linked to review), where she expounds upon the birth of her first novel The Secret Life of Bees, among many other things, I decided that it was time for me to watch the movie.
Whether you enjoyed the book or not — or if you've even read the book — I recommend this movie. If you are unfamiliar with the story, Lily (Dakota Fanning) is a young teen who runs away from her father with her housekeeper Rosaleen (well-played by Jennifer Hudson) to try to find out about the truth of her mother, who died when she was young. It is set in the racially charged atmosphere of the 1960's south. The stories of the African American women trying to break free of their charted future, and Lily trying to escape her past as she finds out the truth about it come together when Lily and Rosaleen follow one of the only clues that Lily has about her mother. The Black Madonna Honey label brings them to the home of August Boatwright (Queen Latifah), where Lily and Rosaleen face their futures head-on, as guided by August and the other Boatwright sisters, May (Sophie Okonedo) and June (Alicia Keys).
The entire cast is superb. The acting is fantastic. The Secret Life of Bees movie is simply beautiful. The cinematography is breathtaking, the music in the film gives this quiet story adds a layer to the story that makes it a beautiful experience. Since it deals with some tough issues, such as a young girl who doesn't feel loved who watched her mother die, and the unjust treatment of African Americans in the 60's, it's hard story to watch, but I'm glad I did.

Whether in the pages or on the screen, Jennifer Donovan loves a good story. She blogs at Snapshot.