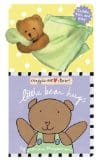 When I saw these new Sandra Magsamen board books, I was excited to share them with you (and give two of you an opportunity to win your own set).
Sandra Magsamen's text is very sweet and simple. The drawings are beautiful, and there's a great rhythm to the prose. But what really caught my eye was the perfect small size and the cute little plush animal (either a bear or a monkey) holding a soft blanket with a nice satin trim.
My 6-month-old niece was visiting this weekend, and I had the opportunity to share these books with her. I had forgotten that babies do respond to text like this. I had noticed her playing with little hand-held soft toys, so I gave her the bear to hold, and starting reading the stories. It was close to bedtime, and she was a little fussy. As my voice changed to "story-telling aunt pitch," she quieted down and looked at me and smiled.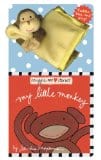 She (and I) especially loved My Little Monkey, but Little Bear Hugs with its loving text is a great way to give your baby some words of love.
Sandra Magsamen is an artist, mom, author of Living Artfully and creator of the Messages From the Heart brand. She designs gifts and ideas that encourage us to live with heart. Sandra Magsamen lives artfully with her family in the Maryland town in which she grew up. Please visit her online at www.sandramagsamen.com.
Watch this interesting video clip about Sandra Magsamen's process, and specifically why she began working with children:

Leave a comment if you'd like to win a set of these Snuggle Me Story Books from Sandra Magsamen (U.S. residents only). We'll announce the winners on October 14.
Subscribe to our feed. Follow us @5M4B on Twitter. Enter our other giveaways.
Jennifer Donovan might be willing to keep a 6-month old baby if someone dropped one off on her doorstep. Learn more about her family at her blog Snapshot.