I'm normally NOT a fan of gift books because I don't really know what you DO with them after browsing through them. Sure, they are cute and sometimes they express a message better than you could on your own but then again – what do you do with them after they've been read?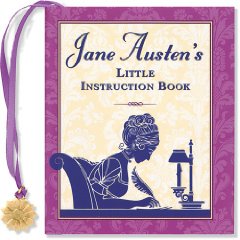 Then recently I discovered some cute and more useful (and generally appropriate for book lovers!) gift books from Peter Pauper Press. The first makes me think of Lisa, our resident Jane Austen Fan. What Jane Austen fan wouldn't want a copy of Jane Austen's Little Instruction Book
? It is filled with sage advice from Austen's more popular work, Pride & Prejudice, and also from some of the lesser read works, such as Mansfield Park and Northanger Abbey. Naturally I'm drawn most to quotes from Mr. Darcy like the following:
"Nothing is more deceitful than the appearance of humility. It is often only carelessness of opinion, and sometimes an indirect boast."
This is a perfect little birthday gift or stocking stuffer for the Jane Austen lover of your acquaintance. It's cute, it's little and familiar with familiar friends, faces and facts.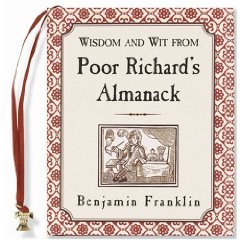 For something equally entertaining, Peter Pauper Press also offers Wisdom & Wit from Poor Richard's Almanack
(just in case you don't want to read the whole thing but prefer snippets).The quotes in this little gift book are taken from the Almanack that Franklin wrote from the years 1732 to 1757. The original spelling has been maintained and makes it an even more interesting read.
"Be slow in chusing a friend, slower in changing."
One has to wonder what Benjamin Franklin was like as a friend or to fellowship with in person. Did he always pop out with this little quips and sayings? I'd be curious to know. Either which way, I'd say this book falls into the "graduation gift" category for those who are chalk full of education but typically lack in life experience. (You know the kind!) This book is a little treasure chest of good advice and words to live by.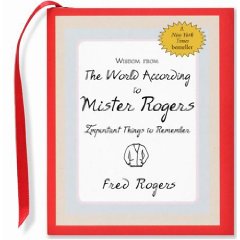 Who DOESN'T love Mr. Rogers? (Well, I suppose it's a possibility. Any man who wears a cardigan day in and day out is suspect, I suppose.) At any rate, for the fun of it, you can glean Wisdom from the World According to Mister Rogers
. It's not all about puppets or sitting in booster seats at restaurants. Fred Rogers has some good things to say. The quotes and snippets in this little book are longer than in the two I mentioned previously. The statements are more thought through and come across in a more relaxed manner.
"The gifts we treasure most over the years are often small and simple. In easy times, and in tough times, what seems to matter most is the way we show those nearest to us that we've been listening to their needs, to their joys, and to their challenges."
I loved Mr. Rogers growing up (as did my husband) and now our son is enjoying him also. It's fun to revist the past through the eyes of my son, and to read these little pieces of advice as an adult.
What about you? Do you enjoy gift books or are they something that you can do without? Again, typically I dislike them but when I come across something like this – which involves the familiar in a fun way – I rather like them.
Carrie comes by her book obsession honestly, having descended from a long line of bibliophiles. She blogs about books regularly at Reading to Know.