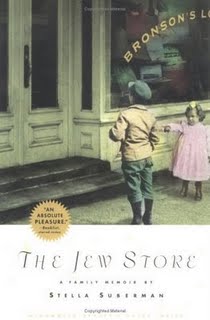 Although it took me awhile to pick this one off of my shelf (much longer than I originally intended!) I thought it was well worth the wait! Quite simply – it was marvelous.
The Jew Store
is a family memoir, written by the youngest daughter in a Jewish family by the name of Stella Suberman. Most of this family's story takes place before Stella was even born but her style of writing is an uninterrupted flow of memories. Her father and mother, along with two older siblings, move to the very small town of Concordia in Tennessee back in 1920 to open up a "Jew store." (Basically their store was a dry good store or something of a early J.C. Penny affair (for lack of a better way of explaining it.) This book documents their struggles in hardship in not only moving away from family to a small town, but the discrimination that the Jews faced in the early part of the 21st century. It's so easy for me to think of Jews being looked down upon in Nazi Germany in the 1940's but much harder for me to imagine that Americans would have had a problem with it over here. Nevertheless, people were suspicious of them, distrustful and very frequently unkind.
Stella's father, an immigrant, was a "born sal-es-man" and loved his line of work. He loved owning and operating his store and had an always-happy salesman personality. Stella's mother, on the other hand, resented having been torn away from her family and seemed to frequently despair over the fact that she could not raise her children as Jewish. There was no synagogue for them to attend and they were frequently on the "outs" of the community because of their Jewish traditions. I can imagine that it would be very difficult to be separated from a group of people who shared your belief system. It's hard to be pulled away from people you identify with and to be thrust into a society of unknowns where some people make it very clear you are unwanted.
The Jew Store
does center the family around the store and its operations however it's really not so much about the business as it is about relationships. This is an easy book to identify with on many fronts. There is Stella's father's exuberance which seems to know no bounds and ignores the depression his female family members have fallen into. There is marital struggle as a result of the stress of their lifestyle, in conflict with the community. Stella's older sister longs to fit in with her peers and bobs her hair at one point, and takes a Gentile for a beau. This book is yet another fantastic way to experience a bit of Jewish culture, as it really points out some traditions of Judaism which is hard for others to comprehend or complete understand. Furthermore, this is a great way to understand a family who is struggling to survive in their own way and standing by one another regardless of the challenges or struggles.
I can heartily recommend The Jew Store
as both an entertaining and enlightening read.
Carrie comes by her book obsession honestly, having descended from a long line of bibliophiles. She blogs about books regularly at Reading to Know.