My 6th and 7th grade history teacher was a big Civil War buff. He taught my daughter this past year, and I had the fun of relearning all the interesting facts I'd buried deep in the recesses of my brain. I'd forgotten how much I enjoyed learning about that time in America's history. That's why I was intrigued by the Civil War series by Cathy Gohlke, written for the YA audience.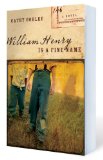 William Henry is a Fine Name is the first book in the series. The novel is set just before the Civil War, as tensions between the North and the South are escalating. Told by 13-year old Robert, it's the story about coming of age in a traumatic period of our nation's history. Robert lives in Maryland with his parents. His father works for a man who freed his slaves, and his best friend is a 13-year old black boy named William Henry. The summer after his 13th birthday, Robert learns that his father is a conductor on the Underground Railroad, helping slaves journey to freedom. Robert's mother was raised on a plantation in the South, and misses her old way of life. She returns home to nurse her ailing father, and Robert comes face-to-face with the slavery establishment. Robert learns he must choose between being a Southerner of privilege and being a man of character. As he watches those he loves make sacrifices for what they believe, he must decide if he is willing to do the same.
I Have Seen Him in the Watchfires picks up five years later. Robert is nearly 18. The war is raging, and Gettysburg has just claimed thousands of lives. Robert receives a letter from his cousin Emily, begging him to find her father who is rumored to be a prisoner of war. Having promised his father that he wouldn't enlist until his 18th birthday, Robert sets out to help his family. His plans to return before his 18th birthday go dangerously awry, and Robert eventually finds himself looking General Sherman right in the eye.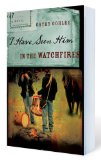 Both books won the Christy Award (2007 and 2009, respectively), which is a testimony to Gohlke's writing talent. This series is a welcome relief from the typical YA fare of vampires, sorcerers, and gossips. The hero faces tough decisions, and learns that one life can touch many. I've marked the series for 12+ as a caution, because the both books accurately depict the horrors of slavery and that may be too much for some younger readers to handle. Overall, I heartily recommend both books for young and not-so-young readers alike.
Melissa has been captivated by books for as long as she can remember. She resides in Virginia and blogs at Breath of Life.