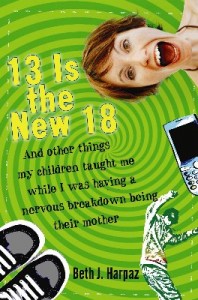 When I started reading 13 Is the New 18: And Other Things My Children Taught Me–While I Was Having a Nervous Breakdown Being Their Mother by Beth Harpaz, I thought it was clever and perhaps a little bit corny. But then I was talking to some friends at church who have three tween and teen boys and Axe body spray came up in conversation. I laughed out loud thinking of the chapter that Harpaz had devoted to the noxious spray, and I realized that she had really nailed the experience of raising teen boys.
This is the kind of book that I generally read a bit of and then put aside, and read a bit more when I want to read something light to distract me. However, I read this book straight through within a couple of days. I kept turning to it for entertainment, but also because I wanted to know what happened next.
It is funny — really funny — but also right on. And instead of loose essays, it really is a memoir of her son "Taz's" thirteenth year. She writes honestly about some of the perils and pitfalls of that time, but because of the self-deprecating tone (she's always referring to herself A Terrible Mother), and the humorous tone, the hard cold facts do not turn depressing.
Harpaz is definitely a Free Range Parent, choosing to guide her son through his teen years, instead of hover over them. As she herself observes, it's much easier to make your son do his homework than to set up expectations that it will be done and then trust him to learn how to handle it.
Fashion, homework, substance abuse, friends, school discipline, social lives, cell phones — it's all here. If you are the parent of a tween or teen, do yourself a favor and read this book. You're guaranteed a chuckle or two, but I think that you might come away breathing a little easier as you come to understand that "this too shall pass."
Jennifer Donovan has a tween daughter and a son (who is eight years away from 13). Read more about her adventures in parenting at her blog Snapshot.