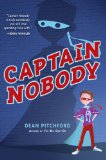 My oldest child turned nine last month, and as a boy, he's entered into that well-documented danger zone for young boys that unfortunately shows frightening numbers of them turning away from reading. Seeing as he has stacked his to-be-read shelf fuller than mine at the moment, I don't have any immediate concerns about his reading fate, and as long as we keep finding books that interest and entertain him, I predict he'll progress to that lifelong reader status, just like his old mom and dad. That's where Dean Pitchford's new middle grade novel Captain Nobody fits in perfectly– appealing to older elementary school boys (and girls, too!) and seriously captivating enough to even engage a parent, as well.
My fourth grader and I read this novel together, a few chapters at a time each night before bed, and it was one of those reading experiences where we laughed together, tried to hold back the tears that welled in our eyes together, and both groaned when we came to the end of each night's reading. Pitchford presents main character Newton Newman, a ten-year-old who feels invisible in the shadow of his high school star football player big brother… until his brother gets injured in a game, and Newt finds himself making choices he never would have imagined before, choices that involve a caped costume and an alter ego. In Newt, Pitchford has created the type of character who children can relate to in his insecurities and fears, as well as be inspired by his tenacity and strength. With an adventure waiting around every corner and an exploration into the importance of sibling relationships, this book is not only entertaining but thoughtful to boot.
I'm learning to embrace this world of middle grade fiction, right alongside my nine-year-old son, and I'm pleased to recommend Captain Nobody to any older elementary students, and their parents (if they'll let you read with them!).
Dawn wonders how much time is left on that read-with-me-Mom clock… she works through parenting thoughts like this and so much more on her blog, my thoughts exactly.