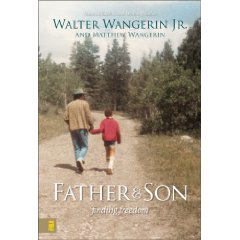 You may recognize the name Walter Wangerin Jr. He wrote the book The Dun Cow which I read several years back. Very unique writing style to be certain. What I did not realize about Wangerin is that he is a father of four – two biological and two which were adopted into their family. The two children which were adopted were bi-racial. This book, Father and Son: Finding Freedom
is written by both Walter and his adopted son, Matthew.
This book details their life stories, intertwined with one another. Matthew's childhood was apparently not easy on either himself or his parents. He was hyperactive and had a childhood problem of stealing and a teenage problem of sullenness and stubbornness. This book is something of a hard read in that it details and documents the struggle between parent and child. It is compounded by questions of "what if?" that surround both of their lives.
As a mother to an adopted son myself, I found this book rather painful. We've all heard the stories of how adoptions don't always work out very well. This book would seem to be yet another such testimony.
However, at the end of this book we are given a chance to hear Matthew's "side of the story." The anxiety he caused his parents was known to him. Selfishness and pride caused him to lapse into silence instead of communicating with his parents and authorities to resolve situations instead of inflame them. He knew the pain he was causing to others, and yet he didn't seem to understand the source of the pain in order to help mend it. In some ways, this book is pure frustration. Yet we see Matthew being grateful for his parent's sacrifices. We find him grateful for their tough love. We find him grateful for their willingness to suffer pain for his benefit and in the end he offers his regrets, sorrows, something of an apology and forgiveness.
Although this is a story of struggle, it is also one of forgiveness, a mirroring, if you will, of how God loves his own erring children. Although we are sinners, we are also saved by grace and that is the message that Father and Son: Finding Freedom
brings to the reader.
This is a fascinating story of struggle. However, it is fundamentally a story of hope.
Carrie comes by her book obsession honestly, having descended from a long line of bibliophiles. She blogs about books regularly at Reading to Know and Reading My Library.