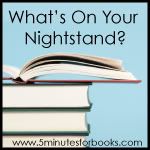 Wet fall weather and cooler temps should invite nothing more than cozying up with a good book, but that hasn't really been the case for me and many other of my bookish friends.
What about you? Is your Nightstand full because you aren't getting to the books you want to read? Or perhaps you keep adding new ones to your pile.
Let us know! Write up a post and tell us what you plan to read this month, or some mini-reviews of what you just cleared off your nightstand.
Are you new to Nightstand? Do you want to know what it's all about? You can find all the information you want to know at the What's on Your Nightstand page.
Also, if it's your first time, be sure to let us know when you link up (on the Linky beside your name). I think that our readers are pretty good about visiting around, but if you are new, we'll give you a little extra-welcoming TLC.

Join in our other Tuesday community events:
Check out our current giveaways. Subscribe to our feed. Follow us @5M4B on Twitter.