It's hard to find a good devotional book. When I do find one I think I'll like, I usually end up reading straight through the book in one or two settings so that I won't forget about the book entirely and set it aside in a stack of books I never got around to finishing. I don't take the time to linger over someone else's encouraging words or life lessons very often.
Here are a few devotional books that I've come across recently. I tried to linger over them a bit longer than I do most and half succeeded but I'm afraid my way is just to plough through.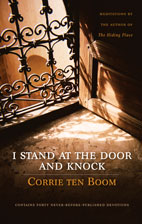 I Stand at the Door and Knock was published by Zondervan Publishers and was "written" by the late Corrie Ten Boom, author of The Hiding Place. (If you haven't read that, it is the story of her imprisonment in a Nazi concentration camp during WWII and is quite fascinating. I highly recommend it!) This particular devotional book is comprised of forty radio devotionals which Corrie gave over radio broadcasts in the Netherlands in the late 1960's. These messages were lost until 1996 and were only recently re-discovered and were published in April of this year.
The book is laid out in the format of a typical devotional. The messages are short, concise and inspiring in such a way as only Corrie Ten Boom herself could be. If you are an admirer of the late Corrie Ten Boom, then this is a must-read.

Extraordinary Moments with Godis published by Harvest House Publishers and written by Sharon Jaynes. I read through this book and was impressed by Jaynes' ability to see God in the ordinary moments of life. She would be walking through a grocery store and would see something that was easily turned into a spiritual lesson. That's talent folks! It just reminds you to always be looking for what God might have to show you in your day-to-day activities. He speaks in a still small voice and we just need to be listening. I closed the book and looked at the back of the cover where it says "Turning Ordinary Days into Extraordinary Moments with God." That, my friends, is exactly what this book encourages you to do. Each devotional is short (1 to 1 1/2 pages long) and is concise. This is great for moms and wives with busy lives to lead. Small and simple reminders to not miss God in the rush of life.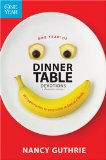 One Year of Dinner Table Devotions and Discussion Starters is published by Tyndale House Publishers and written by Nancy Guthrie. This book was specifically designed to help families reconnect over the dinner table and prompt spiritual conversations. There is a devotion for each day of the year. Each one is written to appeal to the youngest in the family to the oldest. The devotions are written to be read and discussed within a 15 – 20 minute time frame. In a day and age where families are running from activity to activity, this book encourages us to slow down and take time to read the Word together and discuss its meaning. It is a book designed to build and/or rebuild family relationships on a firm foundation. It's a great idea and is conveniently put together in an easy-to-read-and-apply format. Definitely worth checking out!
Do you have a devotional book that you love to use? Are you a lingering type of reader or a speed reader when it comes to such books? What's your preference? Leave a comment if you have a good suggestion to make on the subject of devotional use. I'd love to hear your habits and practices!
Carrie comes by her book obsession honestly, having descended from a long line of bibliophiles. She blogs about books regularly at Reading to Know.