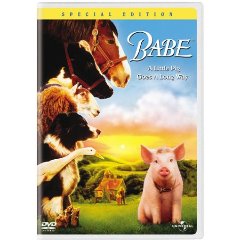 I remember watching Babe years ago. In fact, I think it was one of the first "kid movies" that I brought home to share with Amanda. When she was younger, she didn't have much interest in movies, and I was fairly discriminating about what I would let her watch, so we mostly stuck to preschool television, but occasionally I rented a video for us to enjoy together.
I remember that I really enjoyed the movie. I found it to be funny, sweet, and tender, with a great message about doing your best, and not judging others.
One day while browsing at a bookstore, I found a cassette version of the audiobook marked down. We are all big fans of audiobooks, and with a driving vacation coming up, I thought that this would be a story that Kyle and Amanda (not to mention me) would each enjoy. This was a great choice. We liked the story, and the reading was perfectly expressive.
After enjoying the book, I thought that we should all watch the movie, since neither Amanda nor I remembered it, so I checked it out from the library.
And IT happened. The movie that I had been completely touched by when I saw it five years ago seemed trite and corny and like it left so much out. I had listened to the great audiobook about a month or two before, and I guess I was spoiled.
So, what I'm really saying is that it is a great story. If you haven't seen it or heard it or read it, you should. I recommend reading the book aloud (Babe the Gallant Pig by Dick King-Smith), or try to get your hands on the audiobook which was really fantastic (it's out of print and only on cassette it appears, but you might find it at your library and it is on amazon). It was a hit from age 4 to age 10 to age 38.
Managing Editor Jennifer Donovan is a contributing editor at 5 Minutes for Mom. She blogs about her interests and her family at Snapshot.