In her latest release, The Shape of Mercy
, Susan Meissner introduces us to Lauren Durough. Lauren is the only daughter of a wealthy, well-known California businessman. A college sophomore, Lauren's spent her life trying to break away from her family heritage and the opportunities it affords her. Instead, she attends a state university, lives in a dorm, and obtains a part-time job for income. Her decision to find work leads Lauren to Abigail Boyles and a job that seems to be hand-crafted for her: she will be transcribing the diary of Abigail's ancestor, Mercy Hayworth, who lived in New England during the Salem witch trials.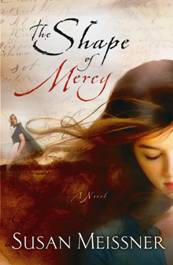 Lauren quickly develops a personal interest in Mercy, also an only daughter not much younger than Lauren herself. Mercy's mother and younger brother are dead, and Mercy is caring for her sick father. Her diary is a treasure, since women during that time weren't supposed to be educated. Mercy pours out her heart and soul, sharing her dreams, stories she wants to write, and her growing feelings for a young man in her village.
As she diligently transcribes the diary and becomes more attached to Mercy, Lauren's work invades other areas of her life. She determines to put her childhood behind her and sort out her relationships with the eccentric Abigail, her partying roommate Clarissa, her persuasive father, and handsome medical student Raul. All the while, she is getting closer to the tragic end of Mercy's life.
The Shape of Mercy
is the story of one woman's journey into the past to discover love in the present. Meissner challenges us to look at our own hearts, the standards we use to measure ourselves against others, and our own definition of love.
Melissa has been captivated by books for as long as she can remember. She resides in Virginia and at Breath of Life.