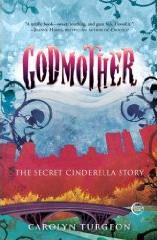 I confess I'm really not a fan of the modern novel. I find them to be so hit-or-miss that I typically avoid them. I browse bookstore aisles, waiting for something to catch my eye and then I indulge in the endless debate over "Will-I-Like-This-Or-Will-I-Not?" which drives me crazy and that's not saying anything about those I may be shopping with. Odds are, I'll leave the bookstore without anything (or a hope of anything) and will prefer an older read, most likely purchased via Amazon (where I can almost always find what I'm looking for).
However, the other evening I was browsing our local bookstore and Godmother: The Secret Cinderella Story
(almost) literally jumped up off the shelf and slapped me in the face. The cover art was whimsical. (I love whimsical.) The following conversation ensued with myself:
Self: Will I like it?
Self: Hmmm, I don't know. It looks like it has great promise.
Self: Copyright 2009. It probably has language or sex scenes in it and you'll be disappointed (again).
Self: Or it could be THE GREATEST FAIRY TALE EVER AND YOU'LL HAVE MISSED READING IT BECAUSE OF FEAR OF THE UNKNOWN.
Self: Yeah, but I usually guess right about what I'll like and won't like and I have a question mark.
Self: How many question marks?
Self: Well, only one really. I like the premise enough that if there is language, I probably wouldn't be miffed.
Self: Read it. You know you want to.
(The conversation with myself was actually much longer than this but I drew the sales clerk over to ask if I needed any help and I figured I'd spare myself further speculation as to any mental stability issues.)
In the end, I decided to take the risk and I am here to tell you that as a result, I got very little sleep last night. Yes, I knew that children rise at the crack of dawn and that I would not just be burning the candle from one end only. I would pay. I would suffer for having stayed up late to read this book. But it was oh. so. worth. it.
The premise? Well, I'm going to quote from the back cover here because I would hate to be accused of offering a spoiler to this book and I would be ashamed for doing so. I'll merely give you the first three sentences which started me on this incredible journey:
"Lil is an old woman who spends her days shelving rare books in a tiny Manhattan bookstore and lonely nights at home in her apartment. But Lil has an intriguing secret. Tucked and bound behind her back are white feathery wings – the only key to who she once was: the fairy godmother responsible for getting Cinderella to the ball to unite her with Prince Charming."
But there was a problem with her original mission! Due to the misfortunes that befell Lil on the fateful night of Prince Charming's magical ball, she was banished from the fairy world into the human world. Centuries later she finds herself alone and in Manhattan. And oh, how she wants to fly again!
I'm looking at my (imaginary, don't worry) list here of adjectives I could use when describing this book. Captivating is not the right word for this book. Neither is enthralling. Both are too pale. Haunting? Thrilling? Enticing? Nothing seems to go far enough. This book was compelling from beginning to end and I sat riveted on the edge of my seat, willing myself to read it with my whole heart instead of allowing myself to skim for the sole purpose of finding out the fate of Lil and Cinderella both.
The book intertwines Lil's memories of the past with her present in a glorious way that just keeps the reader, well, spell-bound! Yes, there is some foul language. Predictable and bothersome, yes, but very easy for me to ignore in this particular situation.
I loved Godmother
so very much that I am giving it a 5 Star label. This means a great deal, seeing that it was only recently published and therefore I wouldn't normally have touched it with a ten foot poll. Apparently the author, Carolyn Turgeon, is in the middle of writing her third novel now about a mermaid and you can bet that I will be keeping my eyes peeled for it and gleefully anticipating it's arrival on the book scene.
Flying away now….before I make myself sound any more ridiculous. (But you could fly with me…. Come on! You know you want to…)
Now, in the interest of full-disclaimers, I ultimately received a copy of this book from the publisher, Crown Publishing Group, who, by the way, has offered THREE copies to three 5 Minutes for Books readers! Want to win a copy?! (Let me answer that question for you: Yes. You do.) Simply leave a comment below. We'll announce the winners on February 10.
You can thank me later and thank Crown Publishing Group right now!
Check out our current giveaways. Subscribe to our feed. Follow us @5M4B on Twitter.
Carrie is happily eating crow over at Reading to Know and Reading My Library.