I'm sure that you are all familiar with the new "blanket as leisurewear" concept, As Seen on TV. I have to admit, that although I am a confirmed lap blanket user, I have made fun of these commercials, mostly because of the premise. I mean, seriously — playing backgammon while blanketed up? Is that necessary? Is using your remote control an insurmountable obstacle?
When I got an email from someone asking if I'd like to try out the Nuddle, I accepted, knowing that since I am a confirmed throw blanket user, my mind might be swayed about this particular innovation. Plus, the Nuddle is the blanket to the stars with celebrity endorsements from stars such as Debra Messing, Mariska Hargitay, Jamie-Lynn Sigler, Rebecca Gayheart and more.
Am I a convert? I am.
But do I repent of my TV-advertised blanket scoffing? I do not.
The Nuddle is different. The thing that my kids and I love is that it's thick and warm. Not thick in a stifling-hot sort of way — it's that ultra-soft fuzzy fur-ish material that you just can't stop touching. Also, notice that it does not have big weird sleeves. Instead it has slits that you can stick your arms through with an ultra furry soft pocket in the front if you want them covered. It also has a pocket for your feet.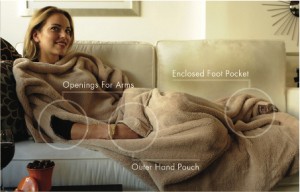 There's only one thing that I don't like about this blanket: that we only have one.
We've been fighting over it. In the week that we've had it, I've used it several times as I cuddled up and read while the kids were at school. My 11-year-old daughter has taken it to her room several times, and we've had to retrieve it. In fact, she went to a slumber on Friday, and begged me to let her bring it with her. On Friday evening while she was gone, 5-year-old Kyle said with a sad sigh, "Oh no, the warm blanket is gone."
This would be a perfect Valentine's Day gift, especially if your love is far away at college, or in the military or something like that (could a cool soldier cuddle up with a super-soft blanket if his wife sent it to him??). Or just treat yourself so that you can get through the rest of the long winter.
You can buy them online at nuddleblanket.com. They are more expensive than the cheesy one, but in this case the quality is evident.

Would you like to win a Nuddle blanket of your own? Hop over to their website, and tell me the style (they come in adult or children's sizes) and the color that you would like if you win. We'll announce the winner (U.S. residents only) on February 10.
Check out our current giveaways. Subscribe to our feed. Follow us @5M4B on Twitter.
Whether Jennifer is watching TV or reading, whether it's winter or summer, you'll usually find her cuddling up with a blanket. Learn about more of her quirks at her blog Snapshot.