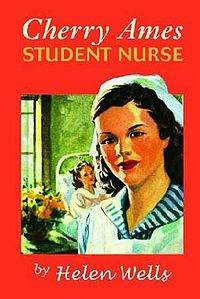 Raise your hand if you know who Cherry Ames is! I have been positively delighted to reacquaint myself with her in association with our Children's Classics Mystery Challenge.
I first "discovered" Cherry when I was 13 or 14 years old, browsing Half Price Books and trying to find something new to read. I came across an original edition of Cherry Ames, Senior Nurse
published by Grosset & Dunlap. Being familiar with G&D's more popular characters, such as Nancy Drew, I figured I'd take a gamble and I stumbled into a world I absolutely loved (even though I have a queasy stomach when it comes to anything involving medicine and blood). While you might not think of Cherry Ames as being part of the "mystery genre" she certainly is! Thanks to Springer Publishing Company you can now revisit or meet Cherry Ames for the first time! Springer has re-released the entire series in hardback editions reminiscent of the original classics.
Cherry Ames was written by two women. Helen Wells is credited with the creation of the series and, from what I can tell, penned the first six books in the twenty book series. The series was published between the years 1943 and 1968 and was set originally in the World War II era when nurses were very much needed for the country and the war. Wells got the series going and then a lady named Julie Tatham took over, transitioning Cherry from a war time nurse to a peacetime mystery-solving nurse. Julie Tatham, by the way, is also known as Julie Campbell who you might recognize as being the authoress of the Trixie Belden series! (So if you liked the writing style of the Trixie Belden books, you aren't going to be steered too far off course by choosing a Cherry Ames book or two to read!)
The thing I absolutely love(d) about the Cherry Ames series is that Cherry job hops like nobody's business. Honestly, if she were a real person seeking employment from me, I'd probably ask her why she couldn't hold a job! But if you knew Cherry, you'd know that she is a genuine, hard-working nurse who ethics cannot be questioned and who can seek out medical mysteries and help solve them with efficiency and ease. She doesn't have a steady boyfriend, but there usually is a romantic interest in the form of a handsome doctor. She's traveled all over the world, being a Cruise Nurse
, Island Nurse
and a Jungle Nurse
(among other things)! Indeed, this series of books was not only published in America but was published in a myriad of other countries including Norway, Finland, Japan and Bolivia!
I loved Cherry growing up for her strong sense of patriotism and black and white outlook on life, which I associate very much with the 1940's. At the same time, she's a "ginger" of a girl who has many good friends that she loves and cares for and she really knows how to have a good time. She's an admirable literary character and worth an introduction, if you haven't made one already. The mysteries are light and enjoyable and it's safe to assume that they frequently involve situations to be discovered in the medical field. I'll talk more about some specific titles later but for now, I hope that if you don't know Cherry that you'll get to know her. She has a rich history about her and deserves a standing among the likes of Nancy, Trixie and those Hardy boys. She can match wits with the best of them and is a delight to know!
Carrie comes by her book obsession honestly, having descended from a long line of bibliophiles. She blogs about books regularly at Reading to Know and Reading My Library.