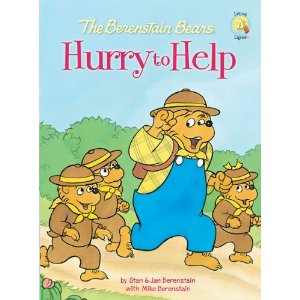 I grew up reading The Berenstain Bears series with my brother. I remember collecting them with him and the two of us scouring the images on the back cover of each book. We were determined to own each and every Berenstain Bear book that we could lay our hands on!
Thankfully, my mom saved these books for us to share with our own kids but upon rereading them I have to say I'm kinda bothered by how Papa Bear is always represented – as some kind of silly oaf. He never seems to have a clue and Mama is the pinnacle of all wisdom and goodness. I can't say that these new Berenstain Bear titles, offered by Zonderkidz are terribly different in that aspect, but they are given something of a faith boost.
Recently I noticed that there was, what is essentially, a new vein of Berenstain Bears which share Christian themes with young readers. I hadn't had an opportunity to look into these books until recently and was very curious as to what they were like. Zonderkidz kindly sent me four of their latest titles for my review: The Berenstain Bears Learn to Share
, The Berenstain Bears Hurry to Help
, The Berenstain Bears Do Their Best
and The Berenstain Bears Discover God's Creation
.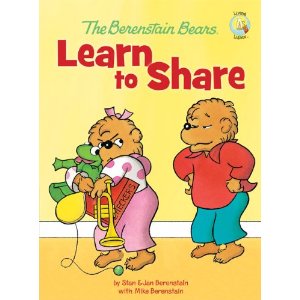 I have mixed thoughts on the books, now having had a chance to read them. On the one hand, I think they are your traditional Berenstein Bears with very little surprises. All of the characters are as they ever have been. Mama Bear is still the voice of reason, the cubs still bicker and have much to learn about how to treat one another and others, Papa is still the klutz, but they still love their family unit and share all of their adventures together. If you have fond thoughts of this bear family, I doubt these books will effect your opinion of them one iota.
From a Christian perspective, I was kind of disappointed by how thinly veiled the bears "Christian faith" was, being that they are advertised as being Christian. If you are wanting to read Berenstain Bears with your kids but you want a Christian message represented, these will do but it's pretty weak. Some of you will like that, and some of you will not. Papa is still made fun of and I think that's the thing I was hoping would be changed the most significantly by laying a "faith blanket", if you will, over these bears. I almost didn't care if they were going to teach me some scriptural principals. In the end, I just wanted to see Papa Bear lead his family well without being constantly humiliated and bailed out of scraps and silliness by Mama. I'd like to see a strong father character in this bear family. (Personal opinion.)
I appreciated various aspects of these books and I see how Zonderkidz is really trying to do something nice for Christian parents who want books with clear messages for their children. For my part, I think that the distinction between the "faith bears" and the "regular bears" is so minute that I'd just as soon be reading the old classics with my son as the new ones. Each book in the Berenstain Bears series – defined by faith or not – has a moral lesson to share. I still love this family of bears, their rhymes, the adventures that they have with one another and their very apparent love for one another. I'd just take a strong Classic Berenstain Bear, rather than a watered down Christian one, if that makes sense.
I think that there probably is a place for these books and there are some good reasons to have them around. Life lessons such as: doing one's best in the face of adversity, learning to share with friends and family, being a helpful person bear, and learning to enjoy activities outside are all valuable lessons! I cannot argue with that at all and won't even try to. I just think that if you are going to say these books are Christian in nature – you might as well go 'all the way' instead of just throwing out the word 'God' when it rhymes and seems to fit. To rephrase – the lessons are still there, whether you mention God or not.
I'm glad that these books are available. I don't know if any of you have been able to meet the Berenstain Bears as they portray faith and I'd certainly be curious for your thoughts. I still love these old bear friends of mine and I'm happy to share them with my children and have them know who they are. This family, to me, is as classic as the Bradys and have rightfully earned a place in society. I'm glad Zonderkidz agrees.
What do you think about these bears? Any fond memories you'd like to share with the rest of us? We're all furry bear ears!
Carrie comes by her book obsession honestly, having descended from a long line of bibliophiles. She blogs about books regularly at Reading to Know and Reading My Library.