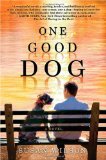 One Good Dog by Susan Wilson is a novel about second chances. The point of view alternates between Adam, a man down on his luck, and a former dog-fighting pit bull, whose very life defines down on your luck.
To be honest, at the beginning of the novel, I wasn't sure if it was working for me. First Adam is very unlikable. Very. You get his backstory and understand why, but even so. . . and then there is the dog's point of view. I'm not such a conventional reader that I can't suspend reality enough to read a book narrated by a dog. I have, and though I haven't loved any of them, I enjoyed them and thought it was a novel approach (no pun intended, unless you are laughing at my cleverness). But by the end of One Good Dog I realized that this story couldn't have been told in any other way, and worked in this book's favor.
In fact, by the end, I couldn't avoid the metaphor of a pit bull being "a victim of his breeding," just like those street kids who fought him, and even Adam himself. For good or bad, aren't we all?
As the metaphor strengthened (always used effectively and never crossing the line into trite), Adam also becomes more self-aware, and thus more likable as well. Both the dog and the man recognize what they really need. Their understanding of freedom, power, and success began to change.
There was some great dramatic suspense at the end that made me fly through the last 50 pages, and like any great animal story, left me reaching for my tissues.

We have a few copies of One Good Dog to give away. Please leave a comment if you'd like to win (U.S. and Canadian residents only). We'll announce the winner on March 17.
The winners of last week's contests are:

St. Patrick's Day Supplies – #7 – Nikki
This Book is Overdue – #18 – Sarah E
Jennifer Donovan has one good dog herself. She chronicles life with her family — furry and otherwise — at Snapshot.