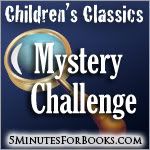 Yup. I know! It's that time again! Where does the time go anyway? I keep asking that question because I still don't know the answer. It's unnerving, that's what!
This month I finally got around to re-reading the first book in the Trixie Belden series. Do you know Trixie? Well, as Jennifer re-descovered last month – Trixie is a fun loving thirteen year old. If you recall, I kicked off this challenge by reading Robin Kane who is also 13 years old, but Trixie is infinitely more tolerable than Robin! Trixie is smart. She has a good head on her shoulders. She is respectful of authorities (most especially her parents!), is a good friend, likes to have a good time and loves horses as I'm pretty sure every young girl has at some point in time during the course of her life.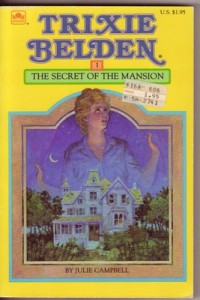 The Trixie Belden series has recently been republished (with that I think is kind of dorky cover art) but if you have never met her, you can get cracking on the first story, The Secret of the Mansion
. In this book we meet fun-loving Trixie who is kind of a lonely country girl. A wealthy family moves in next door and they happen to have a girl named Honey. Trixie and Honey become instant friends and are drawn to a mansion which is located nearby their homes. They saw a face at the window of the mansion and are (insane) about wanting to find out who the face belongs to. As it turns out, the face is quite a friendly one and we are introduced to Jim who is on the run from his mean and wicked step-dad. The twosome becomes a threesome and their adventures continue together.
This series is really quite fun and I enjoyed plunging myself back into the books. I haven't decided what to read next month, but I can tell you that my current preference is to read more about Trixie. I own the whole series and never have I been more tempted to re-read every single book! We'll see what happens.
In the meantime, I'm curious to know what you all chowed down on this month. Care to share? Link up below!
Check out our current giveaways. Subscribe to our feed. Follow us @5M4B on Twitter.
Carrie comes by her book obsession honestly, having descended from a long line of bibliophiles. She blogs about books regularly at Reading to Know and Reading My Library.