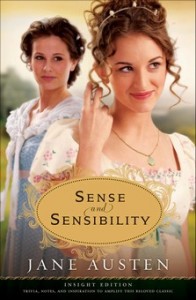 As a Jane Austen fanatic, I've never thought her novels could be improved. The wonderful folks at Bethany House proved me wrong with the Insight Edition of Sense and Sensibility. Packed full of wonderful tidbits of pop culture trivia from the film versions, Austen's life, and the historical & cultural details of the era, this book made me feel like I was reading alongside an old friend.
The editors did an outstanding job of compiling fun and educational information. I particularly enjoyed the ongoing ranking of the novel's most frustrating characters, as well as the comments on the characters and plots.
If you're not familiar with Sense and Sensibility, it's the story of Elinor and Marianne Dashwood. As different as night and day, each sister seeks love and handles rejection in ways that completely confound the other. Yet through all the heartache and uncertainty, they are, above all, faithful and loyal to each other.
Whether you're a long time Austen fan or looking for a place to start, I highly recommend Insight Edition of Sense and Sensibility. The book even includes a "Questions for Conversation" section, making a great choice for a spring or summer book club.
Thanks to the kind folks at Bethany House for allowing me to revisit the Dashwood sisters!
If you've thought about joining our Classics Bookclub, this might be a good book to start with.
Melissa has been captivated by books for as long as she can remember. She resides in Virginia and blogs at Breath of Life.