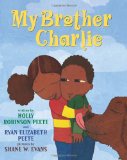 My Brother Charlie is a great book conceived by Ryan Robinson Peete, who is 13 years old and whose twin brother has autism.
Callie tells the fictional story of her brother Charlie, explaining that at first she didn't understand why he acted the way he did, and how she wanted him to act like other brothers, but then coming around to share what is special and unique and wonderful about "my brother Charlie."
Coinciding with Autism Awareness Month, I am so pleased to be able to offer a copy of My Brother Charlie to three of you (U.S. addresses only) — one of you will receive an autographed copy!

Read my full review and enter to win at my review column over at 5 Minutes for Mom.
Jennifer Donovan loves receiving review copies of books that she might not otherwise pick up, like this one, that she inevitably ends up loving.