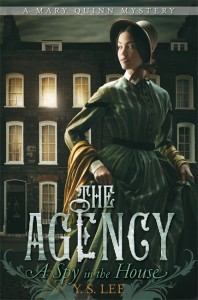 Being that I'm currently on a children's mystery reading kick, I couldn't resist trying out a modern tale of suspense and adventure. I noticed that Candlewick had recently released a new (to them) title called The Agency 1: A Spy in the House
. It sounded like perfection so I gave it a whirl!
A Spy in the House
is set in England in the mid 1800's and it is the story of young Mary Quinn who narrowly escapes the gallows, after being caught stealing. She is taken into a boarding school for young women and given an education and, eventually, is invited to be part of The Agency which is a secret society of women who are brilliantly unsuspecting in a day-and-age where women were destined to be housewives. They can play the part of females in society, which makes them perfect candidates to gather information for Scotland Yard quietly and on the sly.
Huge pros in reading this book:
1. Excellently written by Y.S. Lee. Never for a single moment was I ripped out of the story by awkward dialogue or truly unbelievable situations. Her characters banter with perfection and I snickered at the zingers that Mary whipped out in unsuspecting moments.
2. There are twists and turns at the end of this book that makes me wary of not wanting to spoil this book for you with a traditional review. I could not guess the end of the matter myself and found the conclusion both fun and satisfying.
3. This book is just FUN! For a lover of mystery stories, this one suited me just fine. It wasn't predictable, I could easily visualize the settings that Y.S. Lee was describing, it had humor and I felt honestly suspenseful about the fate of some of the characters.
Cons to reading this story:
1. Even though the book was very well written, Lee clearly has a thing about writing a "strong female lead." You know. The kind of female who doesn't need a man. I felt she rather dismissed the fact that marriage is a good and blessed arrangement. Instead, she took the position with the Agency that marriage is for men and women are better off with options available to them that will not tie them down. I had to tell myself not to be offended by this as I entered the story. That said, although the book starts out strong with the message that "marriage is suspect", it pitters out to a degree and you are able to move past that particular issue and get into the story.
2. There are some mature themes and a few scattered bad words which I found regrettable and keep me from giving this book the full five stars that I rather desperately want to be able to give it. I don't want to tell you what the themes are, because that would spoil the book to some degree. (E-mail me on the side if you really, really want to know.) Because of the themes, I'd personally not recommend this book to anyone 15 and under. (Candlewick suggests is for ages 12 and up but I rather disagree.) If I were the parent, I'd want to read it first. Again though, after the first 1/3 of the book, you move past all of these issues and are immersed into the story.
Admittedly, when I first got going with the story, the themes and the "marriage is a bad, bad thing" theme was enough to make me want to close the book. However, Lee made me like the character of Mary Quinn so much from the get-go that I forced myself to keep going. After awhile, the messages toned down and I was caught up in the mystery of it all, as Lee had rather beautifully set the stage. I found myself easing into the story and enjoying it so thoroughly that I couldn't put it down! I closed the book positively enamored and quickly shot off an e-mail to the publisher asking when the second book is due out! (Answer: 8/10/10)
I would LOVE to give The Agency 1: A Spy in the House
five stars, but I'm held back for a few bad words and some mature themes. That aside, I would hand this book over to any adult lover of mysteries without a second thought, really. Again, you gals know your kids and what you are ok with them reading better than myself. This is one I would seriously consider and am happy to present it to you as an option. It definitely deserves some discussion surrounding a read, but anyone over 18 can just have at it and fly away!
I'm also quite positively delighted to tell you that Candlewick has offered a copy of this book to one of our readers. Would you like to win a copy? Simply leave a comment below! We'll announce the winner in the April 21st giveaway post. This contest is open to U.S. Residents only.
Carrie comes by her book obsession honestly, having descended from a long line of bibliophiles. She blogs about books regularly at Reading to Know and Reading My Library.