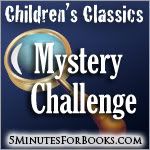 I warned you I was hyped about this challenge. This one is actually costing me something as I've been popping in and out of used bookstores all over the places, hunting for familiar titles and looking for new friends. I want to read and enjoy some of my favorite old series, but I also want to learn and explore and I'm using this reading challenge as my excuse to do so.
Naturally, it would be impossible (for me anyway) to participate in a Children's Classics Mystery Challenge without reading Nancy Drew and I am doing that. You'll find some of my posts about Nancy Drew linked up below (which I discussed a bit over at Reading to Know). Over here I thought I'd introduce you to a new (to me) character who goes by the name of Robin Kane. Really, all I might say is that there is a reason Nancy Drew is popular and I've never before heard of Robin Kane. But I probably wouldn't be able to complete that sentence out loud before I'd be reduced to a snoring fit. Robin Kane is "Booooor-ING!" Our introduction to this unrealistic 13 year old girl from Northern California comes in The Mystery of the Blue Pelican
. Originally published in 1966, there were only five titles released in this series by Eileen Hill. (The last one was published in 1979 and was called "Mystery in the Clouds." I'm reigning in the jokes that are threatening to spill forth as a result of such a title being a part of such a series.) You can only find the first title on Amazon and Wikipedia has never heard of either Robin Kane or Eileen Hill which is something I find regrettable. (If any of you have more information on either the series or the author, I would love it if you left a comment below!)
Robin, as I mentioned, is 13 and apparently wears the pants in her family. The book opens with her concluding a phone call with her best friend, Melinda Hunter in which the two thirteen year olds make plans for Robin's entire family. Robin's method of relating to her family and their interactions are a bit far fetched and her parents seem a bit out-of-touch with realities of having children. Robin and Melinda end up getting into some trouble with El Gato, who steals cattle. More importantly, he steals Robin's favorite horse Nugget. Chills and thrills I tell you! Chills and thrills! I was so bored I almost cried and decided I was glad that I only bought the first book and didn't pick up any others.
It's true I didn't really have fun getting to know Miss Robin, but I'm glad to know of her (if only to know who to avoid in the future). Naturally, I expect anyone with a differing opinion to share it! I can see how it might be appealing to a young lover of horses but again, her age and manner of relating to other people just make her incredibly unrealistic and unbelievable at times. I'll take a pass on anything else having to do with her but I will plan on spending a little more time with Nancy as a result.
So what did you read this month? Or, what are you planning to read in the coming month? I can't wait to see who you've been dabbling around with and I'm looking forward to sharing many trips down memory lane with you as we read along.

This month we have a giveaway as a part of the challenge! Read all of the details over at 5 Minutes for Mom where I posted about Nancy Drew and the Clue of the Broken Locket.
What's more, we are giving away FIVE lockets from Emma Parker & Co. jewelry. You can find all of the details here, but anyone who links up here is also eligible for an entry. So link up either an introductory post joining in or a review of some books you've already read this month, and check out extra ways to win over at 5 Minutes for Mom.
If you already linked your introductory post up in last month's post, you can add an extra comment at 5 Minutes for Mom with that link so that you get an entry for joining in as well.
Entries close on the giveaway on Sunday, and the winners will be announced Monday January 18.
Carrie thought of Nancy Drew and Trixie Belden as some of her best friends growing up. She blogs about books regularly at Reading to Know and Reading My Library.