C. J. Darlington's debut novel Thicker than Blood burst onto the Christian fiction scene, earning the 2008 Jerry B. Jenkins Christian Writers Guild Operation First Novel contest. After reading it, I completely understand why.
This was a book I couldn't put down.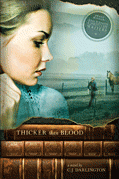 The main character, Christy Williams, has a checkered past that's kept her from going home to see the sister she left behind ago after their parents died. May hasn't seen Christy in 15 years, and doesn't even know if her sister is still alive. The sisters couldn't be more different. May has a close-knit set of friends and Jesus. Christy is an alcholic with an abusive boyfriend and buried secrets that are eating her alive.
A stolen first edition of an Ernest Hemingway novel is about to force a reunion that neither sister is quite prepared for.
Thicker than Blood is a gripping read. I can hardly wait for the sequel, Bound by Guilt, due out in 2011.
Thanks to the folks at Tyndale House for allowing me to review this fantastic book.
Melissa has been captivated by books for as long as she can remember. She resides in Virginia and blogs at Breath of Life.