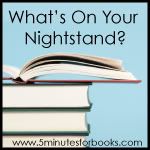 Please link your post telling us "What's on Your Nightstand" below. You can tell us what you just finished or what you hope to read this month.
Take a picture of your pile, or just give us a few quick titles.
Tell us how you pick your books.
Address any or all of these topics: what you are reading, why you are reading it, how you are going to read it.
We usually commit to have at least one team member visit each post (and we love how you all visit around and comment as well). I think it's encouraging and really helps build community. This month, we might be a little scarce. Carrie and I will be attending BEA, so our team is down in size. But we'll do our best, and always — we don't take anyone's participation here for granted. We covet your involvement!
Visit our Join In page to find out all the details about all of our Tuesday community events.

Coming up:
Check out our current giveaways. Subscribe to our feed. Follow us @5M4B on Twitter.
Link directly to your post telling us what's on your Nightstand here. And don't forget to visit around!

What's on Your Nightstand? Participants
Powered by… Mister Linky's Magical Widgets.