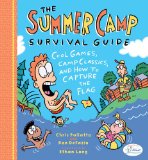 If you're a parent, chances are that you know about the summer camp opportunities in your area for your kids. Maybe you've got some cool sports or arts-and-crafts themed day camps, or perhaps you opt for the sleep-away version and kiss your young guy or gal goodbye by the camp fire. For these, and all other available formats of the summer camp experience, there is a new book by Chris Pallatto and Ron DeFazio that needs to find a place on your shelf or in your kids' duffel bag.
Read my full review of The Summer Camp Survival Guide: Cool Games, Camp Classics, and How to Capture the Flag over at 5 Minutes for Mom, and be sure to leave a comment over there to enter one of three copies.
Dawn spent much of her time at day camp under a shady tree with a book in her hand back in the day. Surprise, surprise. The adventures of her own little campers are told on her blog, my thoughts exactly.