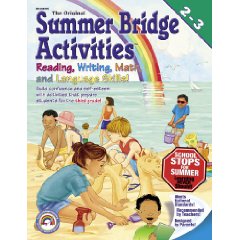 My ten-year-old daughter Amanda and I had the chance to preview a Summer Bridge Activities workbook. I knew that Amanda would be thrilled (Can you imagine the sarcasm dripping from my typed words?). As I anticipated, she rolled her eyes when she saw it, and asked, "Do I have to do that this summer?" I told her I thought it would be a good idea, but would she at least look it over to help me review it.
She immediately saw the motivational calendar at the front of the book which said, "My parents and I decided that if I complete 15 summer bridge activities and read ___ minutes a day my incentive/reward will be: "
"Reward? I get a reward?" she asked. I would not have believe how quickly that little incentive would change her attitude about this workbook. She was immediately on board (I shouldn't have been surprised, because I had already seen how the incentive of the Chore Board Game took the nagging out of chores).
Let me further entice you by saying that this is my first time to see these workbooks, but I'm asking myself, "Where have you been all my life?"

Click over to our weekly books column at 5 Minutes for Mom to read my full review and enter to win your own workbook in the grade level of your choice.
Comments are closed here so that you can click over and leave your comment on the 5 Minutes for Mom review/giveaway.
Jennifer Donovan contributes to 5 Minutes for Mom and 5 Minutes for Giveaways in addition to managing 5 Minutes for Books and blogging at Snapshot.