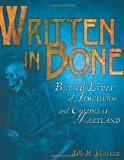 Any cursory glace at the TV listings will attest to the popularity of forensics' shows: CSI: Name-That-City, NCIS, Bones etc., etc., etc.
Tying in forensics and history makes Written in Bone: Buried Lives of Jamestown and Colonial Maryland a timely and current read. This hook might entice kids to delve deeper into history.
If a kid is already interested in history, they would definitely appreciate this look at history from a different perspective, and the medical and scientific facts might help foster a new interest. There is a good bit of medical information included.
Forensic archeologists reveal what they uncover about the lives of those in the colonial settlements as they study their remains. They are able to tell whether they were laborer or landowner, age, sex, and even pinpoint the identity to a person — all of this from remains that are 400 years old!
I winced more than once at the graphic descriptions of teeth decayed down to the root (ouch!), and the hair on the skull gave me the heebie jeebies. However, none of this was sensational. It added to the text, and if you are a tween or teen, it would probably add to the overall appeal.
Kids may feel like the early Jamestown settlements are boring and uninteresting or that they've studied it all in school before. They haven't studied THIS Jamestown. The painstaking scientific process of uncovering bones and then analyzing the remains is absolutely fascinating.
My favorite thing about this book is the wide range of topics it covers, from archeology to anthropology to history to science to medicine. Kids interested in any of these genres will perhaps find crossover appeal that will open doors to new discoveries.
Even my confirmed fiction-reading tween Amanda enjoyed this book.
This book was a Cybils finalist in the Middle Grade/Young Adult Non-fiction category, and has made numerous other lists including the Top 10 List of Best Books for Young Adults, published by the ALA, and I'm naming it a 5 Star Read.
Like her daughter, Jennifer Donovan prefers fiction (and the fictionesque nonfiction genre of memoir), but loves learning about things that she never even knew she was interested in. She also blogs at Snapshot.