I recently received a copy of Scarecrow Pete
, by Mark Kimball Moulton, for review and I confess I had the initial impression that this was more of a fall read. However, after having read the book, I left it feeling convinced that this was a year round read for book lovers (and their children.)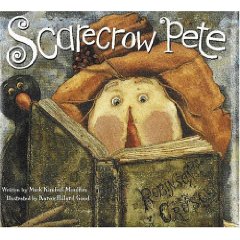 When you open up Scarecrow Pete
you are met with the following quote:
"Why, I can go most anywhere by reading a good book."
That quote rather sets the stage for this story, which involves a young boy who discovers that the scarecrow in his family's cornfield can talk! The scarecrow asks if the young lad would very much mind reading him a story from one of the books which rest in a suitcase below his post. You see, this scarecrow travels around the world by reading. Some of Scarecrow Pete's favorite reads include: Moby Dick, Peter Pan, the Wizard of Oz (guess his favorite character?) and A Snowman Named Just Bob
, (which also happens to be written by Mark Kimball Moulton.) The young boy and Scarecrow Pete have a great number of adventures together in the world of books.
"That summer flew by quickly as we read our books each day,
with Pete upon his wooden pole, me on that bale of hay.
We cried with Laura Ingalls in her house upon the prairie –
and found a secret garden with a little girl named Mary."
As you can see, the story is told in rhyme in the form of a very long piece of poetry. Unfortunately the book is a little long for me to enjoy with my three and a half year old just yet. I am going to label this book as being for ages 6-9, although 31 didn't mind it so very much either! I look forward to enjoying this story many times over and, if you haven't yet met Scarecrow Pete
, allow me to make the introduction.
I'm going to have to give this book a 5 Star Reads label because 1. it deserves it and 2. I hardly think this book would fail to please a person of any age who loves books. It's a fabulously charming story and I highly recommend it!
Carrie comes by her book obsession honestly, having descended from a long line of bibliophiles. She blogs about books regularly at Reading to Know and Reading My Library.