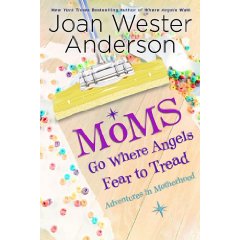 I read Moms Go Where Angels Fear to Tread
during a week of potty training. If you've potty trained, you know my state of mind exactly. I needed to hear that someone else found mothering to be just as much of an adventure as I myself was finding it to be.
Author Joan Wester Anderson points out that motherhood guarantees a few things: stress, a whole lot of waiting for any number of things, and guilt (as well as a diversity in maternity clothes offered at any given time and season.) Her writing style is part Erma Bombeck and part, "Let me PLEASE encourage you and build your faith" as you walk this path of motherhood.
She introduces the book by talking about what she imagines her ideal course on marriage would be and concludes with a chapter entitled "The Last Word" which I know is something we moms all want. With a lighthearted affection towards the task, and yet hitting some serious topics (like parenting children who are twelve which is currently something I don't have to think about which I think is a good thing!), Anderson was a calming pleasure to read.
For fun "mom" stories, this book is like going out for coffee with an amusing person who feels your pain. It's not a deep read, but sometimes, when you're washing your fifty-sixth pair of underwear and sopping up another "leak" you just crave a laugh. That's what I craved in reading this book. Distraction!
Carrie is happy to report that the potty training is actually going rather well. She promises to stop talk about it and stick to books, which she blogs about regularly at Reading to Know and Reading My Library.