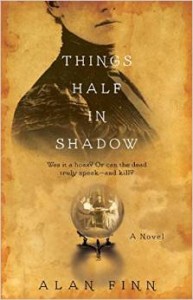 Edward Clark is a newspaperman reporting on crime in the city of Philadelphia in 1869 in Things Half in Shadow by Alan Finn. When his friend from the war Inspector Barclay invites him to the drowning of Sophie Kreuger, who Barclay hopes Clark can write about to help with identification. At the same time, the publisher of his paper wants a series written exposing the mediums of the city of Philadelphia as frauds, preying upon those still stricken with grief from the war.
Clark resists the request from his editor yet still finds himself at a seance that night with Mrs. Lucy Collins. With his hidden background – he's truly Columbus Holmes, the (in his mind) disgraced son of a famous magician who murdered his wife when Magellan was 10, something he's deeply ashamed of – Clark is able to easily identify the tricks Mrs. Collins uses to dupe her clients.
Unfortunately, Mrs. Collins is more than a match for Clark and manages to blackmail him into help her unmask the other mediums in the city, with the goal of then taking over their business for herself. Clark unwillingly goes along with the plot only to have Mrs. Lenora Grimes die during the seance. Interestingly, Mrs. Grimes is apparently a true medium, as Clark's mother and Mrs. Collins's former husband both materialize before Mrs. Grimes perishes, much to their chagrin.
It quickly becomes apparent that Mrs. Grimes was murdered, and everyone inside the locked room immediately becomes a suspect, including Clark and Mrs. Collins. As Clark fights to keep his life together, having been dismissed from his post at the paper for being a suspect and his fiancee's family pressuring her to end their engagement, he teams up with Mrs. Collins more willingly this time to investigate Mrs. Grimes's death and clear their names. And somehow, the death of Sophie Kreuger seems to play into Mrs. Grimes's murder, as well.
The book is primarily a mystery with plenty of twists and turns and characters with secrets to hide and surprising motivations to want to kill Mrs. Grimes. The characters are so much fun to read from Clark's staid denial of his past by living the most boring and straight arrow life he can to Mrs. Collins's practicality coupled with her flair for the dramatic to the stepdaughter of the Duttons who also attended the seance and more.
The book is well over 400 pages, yet it doesn't feel nearly that long as you are swept into the story that Clark is "writing down for his granddaughter" to keep the memory alive. Finn's debut novel is outstanding and one of the books I've most enjoyed reading over the past several months. I kept coming up with excuses to not put it down.
I adored the detail behind so much of the book. It wasn't fluff meant to simply fill pages but details that made 1869 Philadelphia come alive for me from the lesson on a luncheon with a fiancee's family to the fascinating information on Spiritualism and many of the tricks used to ensure seances appeared realistic to their patrons. This wasn't a flat straight line plot with a set of characters who served no purpose but to further the main story. There were so many layers within the book that made the situations and characters that much more compelling.
I will be honest that I wasn't expecting much from this book. I expected an entertaining read, something light that I could enjoy without thinking too much, but Things Half in Shadow blew away my expectations. The most disappointing portion was coming to the end, which thankfully wasn't a wham, bam, thank you ma'am, we solved the murder ending as so often happens. It continued the pacing set earlier in the book, which I greatly appreciated.
Even better? Clark hints at the end that he has more ghost stories and mysteries he can share with his granddaughter, if she wants to hear them, a hint for sequels with Edward Clark. I can only cross my fingers and hope that this hint comes true and I see another novel by Alan Finn in the near future.
This is the first of our 5 Star Reads of 2015. Check out our whole list of recommended reads.
Written by Michelle of Honest & Truly! who adores reading about the 19th century but is thankfully reminded she's glad she doesn't live there each time she reads about the muck in the streets or the issues with bathing. See how she lives her life in the 21st century on her blog Honest & Truly! and follow along with her on Twitter where she is also @HonestAndTruly.