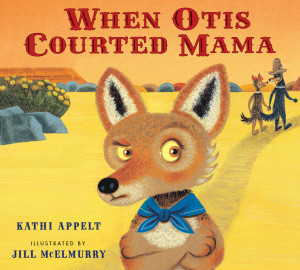 Cardell is a young coyote quite content with his life. His "perfectly good" mama and daddy may not live together, but he's happy with the time he gets to spend alone with his mother or with his father, stepmother, and younger stepbrother. As the title and cover illustration indicate, things get a little tricky for him when his mother has a new suitor. Kathi Appelt's When Otis Courted Mama presents a child's perspective on blended families and watching a parent date again.
Cardell appreciates the special qualities of both of his parents, and as the text states, he's "mostly used to" his living arrangements, split between his parents in different parts of the desert. His time with his mama isn't shared with anyone, though, and the few coyotes who have tried to date his mother in the past had qualities that didn't fit in with their little family. When Otis comes calling, Cardell expects the same outcome. But… Mama seems to really like Otis, and Cardell doesn't know what to expect.
Adults will recognize early on Otis's kind and gentle approach to "courting" Cardell, too, as he and Cardell's mother become closer, and I imagine that this will be a touching element to the parents of blended families reading this with their children. Cardell works through his feelings eventually, finding that Otis has wonderful qualities, too, even if they are different than his father's. Though change can be difficult to weather, Cardell continues to be surrounded by loving family members, and the addition of Otis to one side of his family comes to be another source of happiness for him.
The painted illustrations done by Jill McElmurry bring the southwest alive in colorful splendor, in both the details on the coyote characters and the desert setting. My favorite aspect of the illustrations has to be the end pages, or the inside cover pages, which are covered in designs resembling the classic red bandanna so often associated with cowboys.
What I loved most about this gentle story is that none of Cardell's family members push him toward one feeling or another. His mother doesn't try to change his initially prickly feelings about Otis, but instead lets them build a trusting relationship on their own, giving Cardell the time he needs to accept the change to their life together. While the southwestern setting and accompanying quirky phrases and experiences give a unique flair to this picture book, the emotions and familial love demonstrated by the characters are quite understandable for children and adults who have had similar life experiences.
To get a good idea of the look and feel of the book, watch the short trailer below: