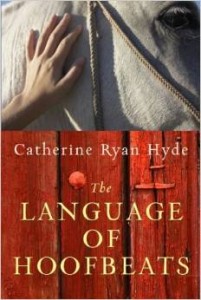 When you read a book by an author who has had an amazing book translated in an amazing movie, you expect big things. Fortunately, Catherine Ryan Hyde doesn't disappoint with The Language of Hoofbeats, though it's incredibly different from Pay It Forward, her most famous novel.
In The Language of Hoofbeats, Jackie and Paula Archer-Cummings  move from Napa Valley to Easley, California, a small town where unflappable Paula is taking over the large animal vet practice. The two are not typical townsfolk, with their nine pets and three kids – one adopted and two foster, and Jackie, in particular, is wary of moving to the middle of nowhere.
Their three kids aren't typical, either. Quinn, adopted by Paula and Jackie after fostering him for two years, is paranoid that they will die like his parents if they leave together. Mando is standoffish and loyal to his mother, and he wants nothing more than privacy and space. Star, the oldest, is on her fourth foster home and a difficult child they've had for only a few weeks before moving.
Star, of course, immediately gets their only neighbor's back up when she goes to look at their horse. Clementine D'Antonio is unhappy about everything, and their nontraditional family only makes things worse. Her griping can't get Star to leave the horse with the tangled mane and tail and burrs trapped throughout his coat. She leaves only after Clem harangues her husband into driving Star off their property, something he does reluctantly.
As they start to ease into their new lives, Jackie misses the life of Napa Valley where she and her wife fit in more comfortably, and her frustration with the situation and with the kids reminds me of how I might act in many of those same situations. She acknowledges her frustration as not always appropriate, however, and I adore her relationship with and grateful attitude towards Paula.
Star is the newest foster child, and the most difficult. Mando resents her for taking up time that should be evenly spread amongst all three children, and that is only exacerbated when Star steals Comet, the horse across the street, and runs away. Needless to say, this pits Jackie and Paula even more against Clem, although Paula does an amazing job seeing the good in her and retaining her patience when dealing with her.
The book is told in alternating chapters from the points of view of Clementine and Jackie. They are the two most prickly characters, aside from Star who is absent from the majority of the book, and telling their stories from their perspectives makes them far more sympathetic, as you see the pain that Clem is in and how she may be mean but not always intentionally so. You understand why she's prickly and see her obliviousness rather than only viewing her as callous.
Though the aftermath of Star's flight with Comet is the main plot within the book, I appreciate that there are so many other aspects that The Language of Hoofbeats also devotes attention to, from the marriage troubles Clem faces to the anxiety Quinn (the youngest and the only adopted child of Jackie and Paula) suffers to the challenge of Mando's mother being in prison.
Neither of the families in the houses across the street from each other are whole. Clem's is dissolving, with her daughter Tina having committed suicide two years previously and her husband Vern moving out. Jackie and Paula are stable and solid as a couple, but their children – foster and adopted – are still figuring out how to become a cohesive family. Even their pets have a challenge getting along. With the backdrop of Star stealing Comet, they have to determine how they can form and be happy – however they define that – with the families they have.
The Language of Hoofbeats isn't sappy. I managed to not cry while reading it. At the same time, it is emotionally gripping. I read this book in a single sitting, all 342 pages of it. For as emotionally fraught as it is much of the book, it was surprising how quick a read it was – and how enjoyable it was. I loved seeing the characters grow and discover. Their communication was a model I'd love to see more of in my own house, or at least the positive examples of it.
Having closed the last page, I'll miss Star, along with Jackie and Paula, Clem, Mando, and Quinn. I feel like there is so much living they all have to do yet, and I wish I were there to see it. And that, to me, is a pretty strong recommendation of a book.
U.S./Canadian residents can enter to win a copy by following the directions in the widget below.
Keep up with us at 5 Minutes for Books
Check out our current giveaways. Subscribe to our feed. Follow us @5M4B on Twitter or on Facebook.
Written by Michelle of Honest & Truly! who may have thought of running away as  child but never got beyond the packing stage. Today, she's content with her life and doesn't plan to chuck anything. See what makes her so content via her blog Honest & Truly! and follow along with her on Twitter where she is also @HonestAndTruly.