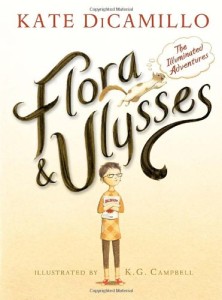 Oh how I love this book. My 9-year-old son got to it before me, and how he loves this book. We read excerpts aloud to my 15-year-old daughter who has never lost her appreciation for children's books (She must get it from me), and she loved what she's heard so she read it and likes it. You can read the description yourself, but the characters speak to what was lovely about the book:
FLORA — A precocious (and self-proclaimed cynical) 10-year-old girl.
ULYSSES — A squirrel who got sucked up by a vacuum cleaner, the survival of which event gave him powers like flying and the ability to understand and communicate
TOOTIE TICKHAM — The neighbor, a bit on the nosy side, but one of Flora's greatest fans
WILLIAM SPIVEY — not William, not Billy, but William Spivey — Tootie's 11-year-old nephew who unexpectedly turns up in her (and thus Flora's) life. He is suffering from temporary blindness caused by trauma.
MARY ANN — A beautiful shepherdess keeping guard over the entry way (she's a lamp)
There are other people who support or confound Flora and Ulysses. The whole story is sort of Flora's quest or ultimate understanding of love and support. I chuckled out loud many times as I read, but I was also moved several times.
This is not a graphic novel or even a heavily illustrated one, but some of the chapters start off with a comic strip panel of Ulysses' adventures, and there are a few other of K.G. Campbell's drawings throughout, which gave the story extra charm.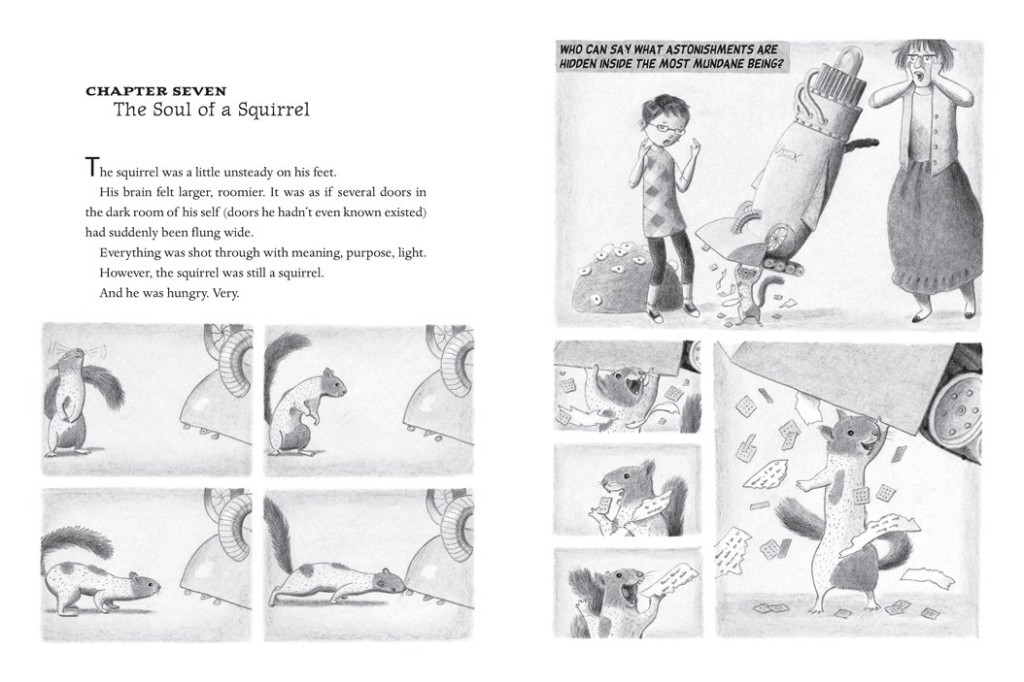 CONTENT NOTE:
Flora and Ulysses: The Illuminated Adventures may seem like a cute little book with some comics throughout, appropriate for your high-reading 2nd grader. He or she could read it I'm sure, and might like it, but I believe this is a book best enjoyed when that more sophisticated sense of humor and vocabulary kicks in. My 4th grade son reads on a middle school level and has always had that kind of sense of humor, so I think he got enough of it to love the book appropriately, but I'm quite sure he'd enjoy it even more in another year or so.
As I read it, I was surprised at the words used: "euphemistically" (which was used in contrast with literally, so maybe he figured it out), "malfeasance" (a word Flora picked up from her comic book superheroes who fight evil), and the shorter but still unfamiliar to grade-schoolers "cynic" (which is sort of defined about midway through the book).
My point is not to criticize the book, because I truly loved it, as did my son, but to suggest to parents (teachers, librarians. aunts, grandparents) that this book might frustrate a younger or less mature child, and as a positive, that this is a book that middle schoolers would love as well if you could convince them to read it. There is also an emotional depth that will be better appreciated by more mature kids.
WIN IT — THE GIVEAWAY IS CLOSED
I liked this book so much that I wanted to share it (beyond my family who were forced to read it), and I sought out and obtained, a giveaway. Start off by entering your email address in the widget below and then answer the question it gives you in the comment section (Which of these characters intrigues you the most?).