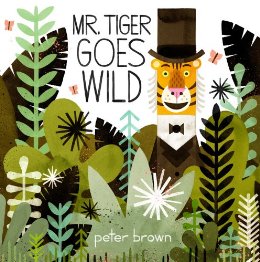 In the opening pages of Peter Brown's new picture book Mr. Tiger Goes Wild, a city of animals is portrayed, but these animals are not what children would likely expect. They walk upright, carrying themselves with obvious poise, and they are dressed quite smartly in suits and long dresses, fancy hats atop their heads (made especially, one would think, to accommodate their horns and ears). In the brown and gray tableau of a busy street, one not-at-all happy face stands out in bright orange- Mr. Tiger.
Though he continues to act in the proper way, Mr. Tiger is clearly tired of this way of life. He longs to shed this straight-laced demeanor… and get a little wild. So he does just that. In a brilliant two page spread, Mr. Tiger, dressed in his suit, bow-tie, and top hat, appears four times, first from the waist up, then from the chest up, followed by the neck up, until finally only a bit of his face and hat can be seen. As his image "shrinks," observant readers will notice his eyes looking all around, as if to see if anyone is watching. With the turn of a page, Mr. Tiger can now be seen poised on all fours, just as a tiger would be in the wild. Seriously brilliant!
As the story progresses, Mr. Tiger does more than just walk on all fours, and the reactions from the other animals residing in the city aren't exactly positive. Mr. Tiger makes a bold decision in his attempts to get a little wild, but will this bring the happiness that he was longing for? In the end, Mr. Tiger discovers a perfect "happy medium" path that works for him, and for others in the city, as well.
For parents and educators who enjoy pairing picture books for compare/contrast discussions, I couldn't help but be reminded of similar thematic elements in Naked Mole Rat Gets Dressed by Mo Willems, making these two a perfect duo to read together.
I'm a huge fan of Peter Brown's previous picture books The Curious Garden and Children Make Terrible Pets, and this one only added to my delight with his style in writing and illustrating. I'd highly recommend you and your kids get wild with Mr. Tiger Goes Wild.