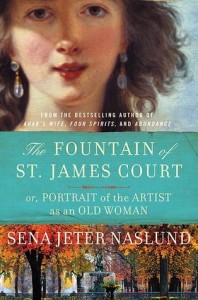 There's much to love in Sena Jeter Naslund's new novel. It features a novel inside the novel, and readers can't help but appreciate the author's obvious adoration of the beauty of words. The contrast of a contemporary story with a piece of historical fiction makes for an interesting reading experience, switching from one time period to another, but the parallels and common themes between the two settings and main characters keep the connection strong. Even the title itself gives the impression that this novel is something different than the usual bookstore fare– The Fountain of St. James Court; or, Portrait of the Artist as an Old Woman.
In the fictional contemporary story at the heart of this novel, Kathryn Callaghan has just completed her latest novel, a piece of historical fiction about Élisabeth Vigée-Le Brun, a well-known painter who lived in France in the 18th century. Upon finishing her manuscript, Kathryn is compelled to bring it across the court to a dear friend's apartment, even though the hour is quite late. In the subsequent chapters focusing on Kathryn, not much actual time passes, but instead, readers come to know her innermost thoughts and reflections on her long life. Her three marriages all ended in divorce, and though they each had different specifics, their demises all share a common theme– not one of the men truly appreciated Kathryn's true self. At this point in her life, Kathryn holds onto many wishes and regrets, but she acknowledges that she cannot change her past, even if she struggles to move past it. She surrounds herself with dear friends when needed, but she mostly has become accustomed to a solitary writer's life. Even with her novel complete, Kathryn continues to feel a connection with Élisabeth Vigée-Le Brun.
This connection becomes clearer as the chapters on Vigée-Le Brun portray her from childhood through adulthood, showing her as a true artist at heart, a person moved by artistic expression, and a woman completed by the motherhood experience. Each has gained a better understanding of herself as a result of marital disappointment, as well. The chapters on Vigée-Le Brun move at a more swift pace, covering many years and significant life experiences, while the chapters on Kathryn only encompass a very short period of time. However, the author masterfully develops both characters in distinct ways, with very different storytelling styles in use. Especially for Kathryn, the perspectives of other figures in her life offer added viewpoints that contribute to her story.
Imagery plays an important role in both stories. Of course, much of Vigée-Le Brun's narrative speaks of her artistic work, and her manner of seeing and appreciating color. In Kathryn's world, the title's fountain sits just across the court on which she lives, a fountain that includes a sculpture of Venus Rising from the Sea, an image that plays a role in Vigée-Le Brun's story as well.
The Fountain of St. James Court; or, Portrait of the Artist as an Old Woman is a novel to be read slowly, enjoying every delicious turn of phrase, and engrossing oneself in the stories of these two incredible and interesting women.
We're happy to be participating in the TLC Book Tour for this novel. Check out the other stops on the tour to hear other book bloggers' opinions of the book.